Advent Kit - Baah

25 mini surprise skeins of La Jolla yarn. Each mini skein is individually wrapped and is about 80 yards each.


Aspen - Baah

Baah Aspen is a soft, beautiful, sport weight artisan yarn, hand-painted with care in southern California. Rich colors and bold combinations create a line of yarn you will keep coming back to.


Crescent Shawl Kit - Baah

The Crescent Shawl pattern uses 7 mini skeins of Baah La Jolla fingering weight. Each mini skein is approximately 130 yards, for a total of 910 yards. The pattern is made of a series of garter section and garter stripes made by alternating 2 colors.


Eco Baby Alpaca - Baah

We carry all 6 colors of this 100% natural Peruvian fiber.


Funfunfun

This shawl is all about having fun! Playing with color and texture, it knits up into an airy, yet cozy, shawl with a long wingspan. Perfect for flying thru those last Winter days that head into the Spring we long for with its sunshine and bright blooms.


New York - Baah

This yarn has a great hand and is extremely soft. The single ply has an extra twist to avoid piling. If you like vibrant colors colors you are in for a real treat.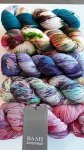 Savannah - Baah

Relax & knit the evening away with Savannah, a hand-dyed beauty from California. The blend of merino, super-soft cashmere & nylon delivers great stitch definition & comes in a lively palette.


Shasta - Baah

Baah Yarn Shasta is a worsted weight yarn made from 100% superwash merino wool. Yarn is hand painted in Las Vegas, Nevada.


Strata Cowl - Baah

This trendy cowl is squishy and comfy to wear. It looks harder than it is to make. It is knit with a one row repeat and is a great intro onto brioche knitting.