21 Color Slouch Kit - Blue Sky Fibers

This striped slouch hat is light enough to be worn in any season. As fun to knit as it is to wear. Kit includes: 21 mini-hanks of yarn, and knitting pattern instructions...everything but needles.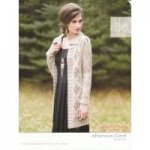 Afternoon Cardi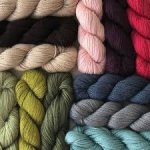 Alpaca Silk - Blue Sky Fibers

A satiny two-ply blend of silk and alpaca. This yarn provides a polished sheen and elegant drape. Offered in a brilliant array of colors. Perfect for scarves and wraps.


Baby Bobbi Bear - Blue Sky Fibers

Baby Bobbi Bear-Blue Sky Fibers


Baby Dress - Blue Sky Fibers

This little dress is an heirloom treasure with a pretty moss stitch bodice and a frilly ruffle along the hem.


Baby Hoodie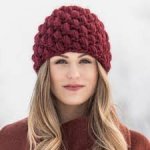 Berry Hat

With superb warmth and a mod look, the Berry hat is perfect for those cold winter days. A quick crochet in a day project.


Bobbi Bear Bulky - Blue Sky Fibers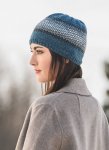 Breckenridge Bundle Hat

This beginner fair isle hat pattern is a fun project using just one bundle and one hank of Woolstok (Worsted). Great for both men and women and enough leftover yarn for a pom.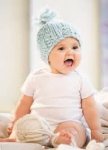 Bulky Baby Hat - Blue Sky Fibers

Blue Sky Bulky Baby Hat


Cabled Cowl - Blue Sky Fibers

Intricate cabling and clever construction make this striking cowl an intriguing knit.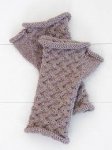 Cabled Mitts - Blue Sky Fibers

Elegant and easy first cable project.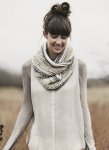 Caledonia Cowl - Blue Sky Fibers

Worn long or doubled up, this versatile cowl will become your new favorite accessory. Quick to knit and beginner friendly, you simply cast on with two strands of our super soft Organic Cotton and knit garter stitch back and forth lengthwise, sewing it up


Can Do Cardi - Spud & Chloe
Claremont Cabled Hat

This hat is a beautiful blend of cables and stockinette with just the right amount of slouch. Knit with two hanks of Woolstok, this warm and stylish hat is a great weekend project.


Crochet Beanie - Blue Sky Fibers

This quick and easy beanie is a great beginner crochet pattern.


Crosby Crochet Wrap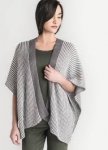 Esko Kimono

With stunning striping and an elegant drape, the Esko Wrap is a versatile piece that can be styled to a casual look or be worn for dressier occasions. The butter soft silk blend makes this an easy-to-wear piece that completes any outfit.


Everyday Hoodie - Blue Sky Fibers

Clean lines and minimal seaming give this modern hoodie a classic, easygoing style that?s perfect everyday.


Glidden Hat - Blue Sky Fibers

This stylish slouch hat in Certified Organic Cotton (Worsted) will be a grab and go favorite for year-round wear.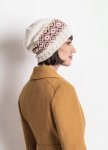 Hanley Falls Hat

Knit with four stunning colors of soft and good for the earth Eco-Cashmere, this beautiful fair isle hat is both warm and stylish. A great advanced beginner pattern with an easy to read chart.


Hooded Baby Blanket- Blue SkyFibers

Blue Sky Hooded Baby Blanket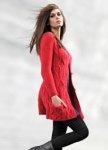 Jazzy Cardigan

Dramatic cables adorn this tunic length cardigan. Knit in pieces with engaging details: welt pockets, deep v-neck, and a cozy button closure. This is sure to become your go-to winter?


Jive Mitts

Fingerless mitts with an easy mock-cable pattern. Knit with one hank of Techno, it?s a quick way to get funky.


Kingston Wrap
Lexington Cowl Kit
Out of Stock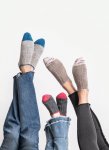 Lilydale Footies - Blue Sky Fibers

Knit with your choice of Spud & Chlo? Fine, Stripey Fine or a mix of both, the options are endless. Sized from child to adult, these machine washable fun-to-wear footies are a colorful addition to any outfit.


Lots of Love Blanket
Men's Striped Vest - Blue Sky Fibers

This classic layering piece gets a modern update with a close-fitting design and a subtly asymmetrical stripe pattern.


Pint Size Pullover and Happy Hat - Blue Sky Fibers

Better than basic, the sweet little Pint-Size Pullover is the building block for baby?s first year.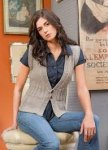 Pleated Vest - Blue Sky Fibers

This sophisticated vest is worked with the yarn held double and knit in stockinette from the center out, with a ribbed waistband and reverse stockinette pleats.


Preston Pullover

Designed with positive ease and longer sleeves, the Preston Pullover is the perfect balance of style and comfort. The surprisingly lightweight all over rib is easy to do, and also flattering. Knit in Techno; a light bulky blend of baby alpaca, fine merino


Sasha Wrap

Some women just have that je ne sais quoi. Is it the way they carry themselves? Could it be where they?re from? Or, maybe it?s just the way they accessorize. This lightweight wrap in Blue Sky Fibers TECHNO is elegant, graceful, and easy-to-knit.


Shawl Collar Vest - Blue Sky Fibers

This chic vest with its wide collar and interesting construction is a fun knit and a perfect layering piece.


Silk Shrug - Blue Sky Fibers

Silk Shrug - BSF


Silver Lake Sweater
Springfield Chevron Hat

Knit with two hanks of Woolstok, this warm and stylish chevron hat looks great on both men and women. Pick your two favorite colors and cast on.


Sunday Morning Slippers - Spud and Chloe
Trimont Snood - Blue Sky Fibers

The Trimont Snood can be worn three ways; as a cowl, a capelet or a hood. Knit in the round from the bottom up in lustrous Woolstok, with decreases providing a touch of shaping, so it?s wider at the shoulders and narrower at the top. The seed stitch panel


Windom Silk Wrap - Blue Sky Fibers

The Windom Silk Wrap has an exquisite blend of color and sheen. Knit with five hanks of Alpaca Silk, this luxurious piece can be worn as a wrap or a scarf. Beautiful drape and stylish stripes, this easy to knit piece is everyday glamour.