Cascade 220

A perfect combination of affordability, quality, versatility, loft, durability, & fabulous stitch definition. Works up beautifully in cables, lace, colorwork, simple stitch patterns. Ideal for heirloom quality garments, accessories & felted projects.


Cascade 220 Superwash Merino

220 Superwash Merino is similar in gauge and yardage to classic 220 Superwash but with the softness of merino. Use this easy care versatile yarn is great for kids' clothes, washable blankets, sweaters, accessories and anything else you can imagine.


Cascade 220 Superwash Wool

We are sure you will love this light worsted/DK superwash wool. It is a natural fiber that is easy-care meaning you can machine wash and dry it! From accessories and kids items to blankets and quick knits, this is the perfect yarn!


Cascade Baby Alpaca Chunky

Baby Alpaca Chunky is great for snuggly, one-skein scarves or make a cozy throw blanket. Baby Alpaca Chunky knits up at a bulky weight so your projects will be done quickly.


Eco + Merino - Cascade

Made in extra-generous skeins of Bolivian merino wool makes it perfect when you need extra softness for next to skin wear like hats, scarves, cowls or mitts. But with its ample amount of yards it is perfect for cardigans, pullovers and blankets, too.



Out of Stock
Heritage Prints - Cascade

This self-patterning, super-soft yarn is a machine washable blend of superwash merino and nylon - a soft yet sturdy combination! Patterns and stripes emerge all on their own as you work.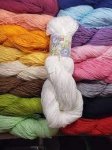 Nifty Cotton

Nifty Cotton is a great worsted weight cotton in cheery colors:


Nifty Cotton Splash

Nifty Cotton is a great new yarn in cheery, "nifty" colors making this worsted weight yarn an excellent choice for projects that will get a lot of use and wear