Cascade 220

A perfect combination of affordability, quality, versatility, loft, durability, & fabulous stitch definition. Works up beautifully in cables, lace, colorwork, simple stitch patterns. Ideal for heirloom quality garments, accessories & felted projects.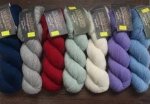 Cascade 220 Fingering

Extra yardage into this one, so you get 273 yards of 100% pure wool. Start thinking multi-colored mittens, glorious gloves and psychedelic shawls, as this wonderfully versatile and brilliant bright wool works up a treat.


Cascade 220 Superwash Merino

220 Superwash Merino is similar in gauge and yardage to classic 220 Superwash but with the softness of merino. Use this easy care versatile yarn is great for kids' clothes, washable blankets, sweaters, accessories and anything else you can imagine.


Cascade 220 Superwash Wool

We are sure you will love this light worsted/DK superwash wool. It is a natural fiber that is easy-care meaning you can machine wash and dry it! From accessories and kids items to blankets and quick knits, this is the perfect yarn!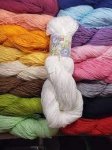 Nifty Cotton

Nifty Cotton is a great worsted weight cotton in cheery colors:


Nifty Cotton Splash

Nifty Cotton is a great new yarn in cheery, "nifty" colors making this worsted weight yarn an excellent choice for projects that will get a lot of use and wear