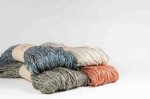 Linen- Dan Doh Designs

100% Pure Linen yarn from Japan. Clean, crisp linen fiber is spun into a unique chain ply structure, that knits up into light and airy fabric with dramatic drape. Nice soft handle.


Silk + Dan Doh Designs

A unique combination of Silk with little bits of color and silky cotton. "Silk +" is soft, light, and very comfortable to knit and wear. Silk + wears like a dream and has marvelous drape.