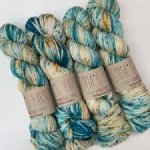 Bodacious Bulky

3 plies gives this yarn a gorgeous twist and fabulous feel. Your favorite bulky hats, sweaters, and scarves will knit up quickly and beautifully in this base.


Colosseum Socks Kit
Comfy Cotton - Emma's Yarn

Perfect for warm weather knitting. 50% cotton is breathable, wicks away moisture, and is comfortable on the skin while 50% wool helps your garment maintain its shape over time


Cooma Cowl-Emma's Yarn

Cooma is a light and airy cowl that provides lots of warmth. Holding fingering and mohair together is all the rage right now (and for good reason, it's stunning!)


Drapey DK- Emma's yarn
Effuary Cowl Kit

Casapinka's newest design is a knitted cowl using 424 yds of Bulky in 4 colors!


Goat Cowl Kit-Emma's Yarn
Hella Hank - Emma's Yarn

A really big and super soft hank of fingering weight yarn, perfect for a shirt, wrap, or anything requiring a lot of yardage. AND, less ends to weave in! One hell of a hank with a super soft feel (thank you, cashmere) perfect for garments wraps etc.


Little Bee Lip Balm -Love and Leche

Available in 4 scents: Minty Bee (peppermint), Lavender Bee (lavender), Blossom Bee (orange blossom) & Honey Bee (unscented)! Little Bee lip balm is scented with natural Essential Oils. The tube is made of eco-friendly paper that is 100% recyclable!


Marvelous Mohair - Emma's Yarn

Soft, silky and definitely luxurious. Add a subtle halo to any project. Use tone-on-tone colors to add depth an dimension to a garment or pair contrasting colors. Looks great held with another strand or used on its own.


Mo'Slub
Practically Perfect Halves -Emmas Yarn
Practically Perfect Smalls - Emma's Yarn

This is the perfect addition to any fingering weight project that is missing that pop of crazy beautiful color! We love it as a coordinating heel / toe on a practically perfect pair of socks.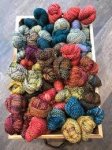 Practically Perfect Sock - Emma's Yarn

You guessed it, this 2 ply yarn makes a practically perfect pair of socks! This yarn is machine washable and has the perfect amount of stretch for a crazy comfortable pair of socks. Each 100g skein has 400 yards of gorgeous color.


Practically Perfect Theme Pack - Emma's Yarn

Ten Practically perfect smalls designed to be used together for a melting effect.


Simply Spectacular DK-Emma's Yarn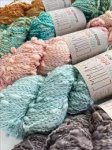 Slubby Slub-Emma's Yarn

Emma's Yarn newest fingering base yarn. Great for all your art yarn projects!


Super Silky - Emma's Yarn

This wool/silk yarn has a gorgeous drape and elegant sheen that looks and feels so soft! You will want an extra skein just to pet and cuddle! One 2-ply skein makes it the perfect yarn for a fine gauge wrap, shawl or sweater. Each skein hand-dyed by Emma.


Suri Silk - Emma's Yarn

Our Suri Silk is soft, fluffy, and a great alternative to our Marvelous Mohair for anyone who has allergies or prefers not to work with mohair! Hold a strand of Suri Silk with another Emma's Yarn base for a gorgeously soft halo of texture.


Washable Worsted- Emma's Yarn

This high quality worsted wool base is so soft, not scratchy and is perfect for your favorite garments. You can throw it in the wash and re-wear all sweater season (and the rest to come).