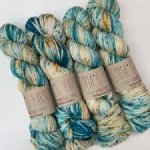 Bodacious Bulky

3 plies gives this yarn a gorgeous twist and fabulous feel. Your favorite bulky hats, sweaters, and scarves will knit up quickly and beautifully in this base.


Comfy Cotton - Emma's Yarn

Perfect for warm weather knitting. 50% cotton is breathable, wicks away moisture, and is comfortable on the skin while 50% wool helps your garment maintain its shape over time


Cooma Cowl-Emma's Yarn
Drapey DK- Emma's yarn
Hella Hank - Emma's Yarn

A really big and super soft hank of fingering weight yarn, perfect for a shirt, wrap, or anything requiring a lot of yardage. AND, less ends to weave in! One hell of a hank with a super soft feel (thank you, cashmere) perfect for garments wraps etc.


Marvelous Mohair - Emma's Yarn

Soft, silky and definitely luxurious. Add a subtle halo to any project. Use tone-on-tone colors to add depth an dimension to a garment or pair contrasting colors. Looks great held with another strand or used on its own.


Mo'Slub
Practically Perfect Halves -Emmas Yarn
Practically Perfect Smalls - Emma's Yarn

This is the perfect addition to any fingering weight project that is missing that pop of crazy beautiful color! We love it as a coordinating heal / toe on a practically perfect pair of socks.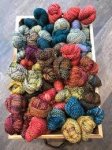 Practically Perfect Sock - Emma's Yarn

You guessed it, this 2 ply yarn makes a practically perfect pair of socks! This yarn is machine washable and has the perfect amount of stretch for a crazy comfortable pair of socks. Each 100g skein has 400 yards of gorgeous color.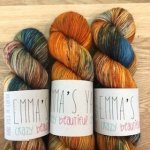 Simply Spectacular DK - Emma's Yarn

This is a gorgeous 4-ply yarn made of 75% superwash merino & 25% nylon. It is soft to touch with just the right bit of give, making it perfect for garments, blankets, and accessories. We love the gorgeous colors and how luxurious it feels working with it.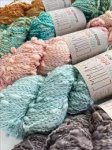 Slubby Slub-Emma's Yarn

Emma's Yarn newest fingering base yarn. Great for all your art yarn projects!


Super Silky - Emma's Yarn

This wool/silk yarn has a gorgeous drape and elegant sheen that looks and feels so soft! You will want an extra skein just to pet and cuddle! One 2-ply skein makes it the perfect yarn for a fine gauge wrap, shawl or sweater. Each skein hand-dyed by Emma.


Washable Worsted- Emma's Yarn

This high quality worsted wool base is so soft, not scratchy and is perfect for your favorite garments. You can throw it in the wash and re-wear all sweater season (and the rest to come).