Skip Navigation
Website Accessibility
Malabrigo
Brands > Malabrigo
Showing 1 - 11 of results
View Large Image
Arroyo - Malabrigo

A soft and sturdy plied sport-weight, Arroyo has quickly become a favorite among knitters! It's perfect for those everyday lightweight (but warm) garments, and the superwash wool means it's easy to take care of.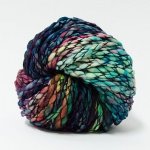 View Large Image
Caracol - Malabrigo

A bulky thick-and-thin yarn made of delightfully soft superwash merino wool, crisscrossed with a binder thread (either black or white.) Knits up into a cozy, fluffy fabric with a ton of texture & visual interest. Simple stitch patterns really let it sing!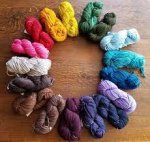 View Large Image
Chunky-Malabrigo

Soft & smooshy Malabrigo Chunky knits up quickly into cozy sweaters, & cold weather accessories. This yarn has nice stitch definition for cables, textured stitch patterns & simple stockinette. The signature, kettle-dyed color palette is sure to inspire.


View Large Image
Cloud Roving -Malabrigo

Cloud is our new, superwash roving yarn that will redefine your spun threads. This 100% merino wool top is machine washable, reduces pilling and reflects malabrigos known colors like never before.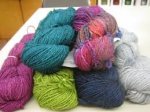 View Large Image
Dos Tierras - Malabrigo

A DK weight yarn that is as versatile as it is beautiful. Ultra soft with good stitch definition & drape, this 4-ply yarn was kettle-dyed and gives the perfect palette to help show off your stitch work.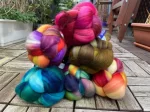 View Large Image
Nube - Malabrigo

ultra-soft merino now available as unspun top, in a selection of our most beloved colorways. It is truly a joy to spin, full of fluff and loft and unmatched softness! Of course, you can also knit with the roving itsself for a uniquely fluffy effect!


View Large Image
Rasta - Malabrigo

Whip out a super-cozy accessory in just hours with this super-sized slightly-fulled delightful yarn. Uruguayan merino is just as soft as ever. Knit it up on a 13-15 needle & everyone will know just how fabulously talented a knitter or crocheter you are!


View Large Image
Rios - Malabrigo

Soft, strong, and washable 4-ply yarn. The plies help resist pilling and washability makes it fantastic for frequently-worn garments, housewares, and children/baby clothes. Super soft and great for next to skin wear.


View Large Image
Rios Solidos
View Large Image
Susurro - Malabrigo

A blend of silk, linen, & Merino wool is soft and light, making it perfect for summer. The silk gives this a subtle sheen, while linen provides textural interest. Lovely for knitting light weight garments, scarves/wraps, ponchos, & tees.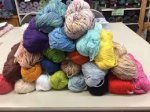 View Large Image
Verano - Malabrigo

Verano's softness, strength, & shine are perfect for both warmer weather & those in between times when you just need a little something. Pima cotton is renowned for its softness & strength & has a subtle sheen that adds an additional interest to projects.