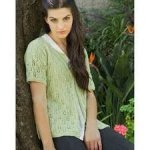 Alcott

Alcott by designer E.J. Slayton is a breezy, short-sleeve cardigan perfect for spring! Alcott is knit from the bottom up, and seamed together. Tidy bands of garter trim the sleeves, hem and neckline of this lace cardi.


Alegria - Manos del Uruguay

Sock yarn from Manos! Alegria is an easy-care blend of ultra-soft superwash merino with durable polyamide. Its "hand" is remarkably soft and resilient, making for lovely baby projects as well as socks.


Alegria Grande Bocados - Manos del Uruguay

Alegria Grande Bocados, Spanish for little bites, are just right for projects that need a bit of color, or a small amount of many colors.


Alma - Manos del Uruguay

This versatile fingering-weight single-ply yarn is a soft and supple choice for shawls, sweaters, and accessories. It's got a great balance between lightness, body, and drape, and it also hits the sweet spot for lace work.


Alpaca Heather 100g

Alpaca Heather 100g by Manos del Uruguay is naturally dyed and soft to the touch. This yarn makes a great main color for color-work sweaters paired with the colorful 50g hanks! Alpaca Heather makes a perfect choice for shawls and hats!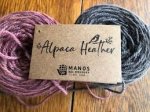 Alpaca Heather 50g

When 3 undyed colors ( put up in 100g hanks) are then overdyed with Manos's kettle-dyed semi-solid colors, the results are 13 rich, semi-solid subtle tones (put up in 50g hanks).


Anillo

Anillo by designer Miriam Felton is a squishy, simple stockinette hat with stripes of popping purls.


Cardo- Semi Solids

Cardo is a fundamental yarn: its smooth texture, traditional spin, and resilient hand all hark back to beloved heirloom projects. Cardo gives pristine stitch definition to warm knits that work up quickly. 100% Corriedale wool


Churros - Manos

Knit using two shimmering colors of Manos del Uruguay Fino, Churros is worked in quick and easy brioche stitch with occasional color switches to change things up. This scarf is designed with instructions for two widths, but is easily customizable


Ebadi Scarf

The Ebadi scarf is knit lengthwise, with a mesh-stitch panel shrinking at one end of the row while growing at the other, separated by a constant panel of seed stitch.


Franca - Manos Del Uruguay

Knit up a beautiful project in record time with Franca. Great for cozy cowls and funky, cool accessories. Franca is a special brand of hand spun & dyed artisan yarns that supports rural Uruguayan women.



Out of Stock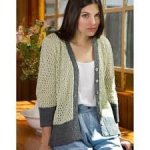 Gilman Cardigan - Manos

For a modern take on the classic cardigan, Manos del Uruguay?s Gilman is a great choice. Worked with garter stripes separating eyelet rows and a contrasting cuffs and edges, this cardigan is a little bit preppy, a little bit girly, and all stylishly laid-


Vasca Cowl - Manos

Vasca is a fun and unique cowl knit using the brioche stitch. The cowl is knit flat, but instead of seaming together, buttons are used to create the closure. Using Manos del Uruguay Serena, it makes for a beautiful, cozy cowl.