Skip Navigation
Website Accessibility
Schoppel-Wolle
Brands > Schoppel-Wolle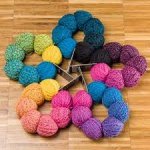 View Large Image
Zauber Perlen

Schoppel Wolle Zauber Perlen breaks down gradients into 7 mini balls that provide a smooth transition from one shade through to the next. This fingering weight Merino wool yarn is perfect for creating beautiful fade projects like shawls and cowls.


View Large Image
Zauberball Crazy - Schoppel

Each strand of this 2-ply yarn has been dyed individually, then twisted together for a zany color combination. The end result is a self-striping multi-colored pattern, with a bold variegated design! A sock yarn which is fine & soft, a delight to knit.