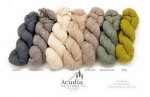 Acadia - The Fibre Co

Acadia is a rustic blend of silk noil, baby alpaca & fine merino wool. This versatile yarn is ideal for creating a handmade wardrobe that can be worn almost all year round. Most shades have a heathered appearance.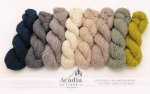 Acadia Mini hanks-The Fibre Co

The heathered appearance of this DK weight yarn is achieved from a kettle dyeing process that creates the subtle duotones for which The Fibre Co. has become known.


Amble 25 g mini
Amble- The Fibre Co

Amble is a fingering weight yarn made from a blend of eco-friendly washable wool and alpaca for comfort as well as recycled nylon for strength. Although designed for sock knitting, this soft and durable yarn is also great for accessories.


Cirro- The Fibre Co
Luma Mini Skeins

A lofty blend of organic cotton, linen, Merino wool and silk.


Road to China Lace - The Fibre Co (Discontinued)

Road to China Lace is a 2-ply strong, soft, shiny and drapey laceweight yarn., with a lot of body, perfect for luxurious, soft and warm accessories.