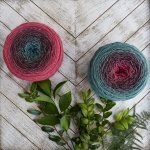 Blossoms

Center-pull gradient sock yarn: 4 oz., 425 yards; 80% superwash merino/20% nylon


Felted bag

The Abstract Leaves bag is sized for carrying your double-pointed needles, crochet hooks, and other large notions in modern style.


Felted Pins
Gumball Pack

This pack of wool is like a little baby Wooly Bully. Ideal for combining with our blank bags for needlefelting embellishment. The small amount of wool is more than enough for surface designs and detailing.


March Hare Mini - Wonderland Yarns

March Hare is a heavy worsted weight yarn. This go-to worsted covers it all: softness, elasticity, and wearability.


Woolly Bully

Wooly Bullies felt down quickly into a nice dense felt. The larger diameter fibers are ideal for needlefelting–catching easily in the needle barbs and hiding needle holes well. This wool can also be used for wet felting projects