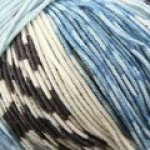 Ambiente - Schoppel

Ambiente is a super soft sport weight yarn that will make wonderful socks, accessories, and even baby projects. The colors in the ball coordinate beautifully and the print adds a touch of interest.


Road to China Lace - The Fibre Co (Discontinued)

Road to China Lace is a 2-ply strong, soft, shiny and drapey laceweight yarn., with a lot of body, perfect for luxurious, soft and warm accessories.