Cloud Roving -Malabrigo

Cloud is our new, superwash roving yarn that will redefine your spun threads. This 100% merino wool top is machine washable, reduces pilling and reflects malabrigos known colors like never before.


Coloring with Wool - Felted Sky

The pattern comes printed in color on linen fabric. Simply fill it in with wool, similar to an embroidery pattern or paint by number - but for felting! Stab away without thinking about or where to to place each color.. just enjoy filling in the picture.


Felted Pins
Felted Sky Mini Kits
Felting Colorbox- Felted Sky
Felting Needle tool-Clover

No thread or glue needed! Clover's Felting Tool has five barbed needles that catch the wool roving fibers and pushes them into the bottom of the fabric. The wool roving fibers stay permanently. Comes with a clear lock cover for storage and safety


Felting Needles-Ashford
Out of Stock
Gumball Pack

This pack of wool is like a little baby Wooly Bully. Ideal for combining with our blank bags for needlefelting embellishment. The small amount of wool is more than enough for surface designs and detailing.



Out of Stock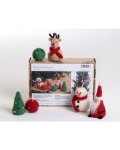 Needle Felted Christmas Ornament Kit - Ashford

Needle Felting Kit Christmas Special is perfect as a gift or a holiday project with the children! Get creative, add some character and create your own handmade pure wool festive ornaments to hang on your tree or deck the halls with this year.



Out of Stock
Needle Felting 20 cute projects
Out of Stock
Needle Felting Box Kits

Fun and easy project to make as a gift or for yourself.



Out of Stock
Needle Felting Foam

Used to provide a penetrable surface on which to needle felt


Needle Felting From Basics To Bears

Needle Felting From Basics To Bears



Out of Stock
Needle Felting Pen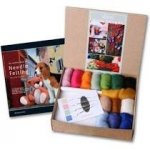 Needle Felting Starter Kit - NFK - Ashford

Needle Felting Starter Kit-NFK- Ashford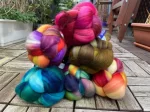 Nube - Malabrigo

ultra-soft merino now available as unspun top, in a selection of our most beloved colorways. It is truly a joy to spin, full of fluff and loft and unmatched softness! Of course, you can also knit with the roving itsself for a uniquely fluffy effect!


Painting with Wool Felting Kit-Felted Sky
Sculpting with Wool Kits-Felted Sky

Learn to work with wool and turn it into - well - almost anything you can dream up! Our kits make it easy to try out sculptural needle felting with high quality materials and video instructions that walk you through each step from start to finish.


Superwash Merino Tops - Manos del Uruguay

Our 100% merino extrafine tops are hand dyed and will make a gorgeous home spun yarn.


UP North Yarns Roving
Out of Stock
Wool Felting Mat-Felted Sky
Woolly Bully

Wooly Bullies felt down quickly into a nice dense felt. The larger diameter fibers are ideal for needlefelting–catching easily in the needle barbs and hiding needle holes well. This wool can also be used for wet felting projects


Needle Felting Kit - Bugs - Ashford

Needle Felting Kit-Bugs - Ashford



Out of Stock
Needle Felting Kit - Flowers - Ashford

Needle Felting Kit-Flowers - Ashford



Out of Stock
Needle Felting Kit - Rooster - Ashford

Needle Felting Kit-Rooster - Ashford



Out of Stock
Needle Felting Kit - Sheep - Ashford

Needle Felting Kit-Sheep - Ashford



Out of Stock
Single Needle Felting Tool - Clover

Single Needle Felting Tool - Clover