Skip Navigation
Website Accessibility
Kits
Showing 1 - 40 of results
View Large Image
21 Color Scarf Kit - Blue Sky Fibers

Colorful, generous in length, reversible and warm; this scarf has it all. With endless styling options, it looks great on both men and women.



Out of Stock
27 Color Snood Kit
Out of Stock
a-MAIZING Sock (kit) UP North Yarns
View Large Image
Advent Kit - Baah

25 mini surprise skeins of La Jolla yarn. Each mini skein is individually wrapped and is about 80 yards each.


After the Storm Kit
Out of Stock
Alaska Hat Kit
Out of Stock
View Large Image
Alegria Superpool Sock Kits

Full skein of Alegria is dyed in bright swirling colors that are designed to stripe and pool! Of course, Alegria Superpool Kits aren't just for socks. Hats, shawls, sweaters, whatever strikes the crafter's fancy!


View Large Image
Amigurumi kit - Too Cute 2 Collection

Choose between five beautiful and charming characters: Bee, Dog, Strawberry, Sheep, and Violet! All kits contain all the necessary materials to make one of the super cute characters of this charming collection!


View Large Image
Amigurumi Kit- Dino collection

Amigurumi kits Baby Dino collection has four cute options: Baby Brontosaurus, Baby Stegosaurus, Baby T-Rex and Baby Triceratops! All kits contain all the material needed to make your ferocious baby dinosaur from the Jurassic era!


View Large Image
Amigurumi Kit- Doll Collection

The Kit Dolls Collection includes five little cuties: Dan, Sophia, Liz, Amy and Oliver. A complete kit with all that you need to make your doll.


View Large Image
Amigurumi kit-Cuddly Teddy Bears Collection

Get ready for a lot of cuteness with the new Cuddly bears Amigurumi kits! Everything you need to make your Cuddly Bear is included. There are two charming bears for you to choose: Elisa and Chef Tadeu,


View Large Image
Amigurumi Kits-Baby Farm Animals

Basic and repetitive stitches, simple shaping and finishing. Kit contains everything needed to make a complete character.


View Large Image
Amigurumi kits-Cats and Dogs Collection

Basic and repetitive stitches and stitch technique beyond the basics with more detailed shaping and finishing including increases and decreases, simple sewing stitches, and embroidery stitches.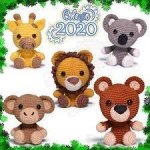 View Large Image
Amigurumi kits-Safari Animals

Amigurumi yarn is ideal for crocheting or knitting small three-dimensional dolls. With a full color chart, you can use your creativity and create fun pets, children's characters and dolls. The yarn is composed of 100% mercerized Brazilian virgin cotton.


View Large Image
Aspen Slouch Kit- Blue Sky Fibers

The Aspen Slouch is a fun striped womens hat knit in Woolstok Tweed Aran. The hat is knit in the round seamlessly from the bottom up and finished with a striking contrast pompom. Woolstok Tweed Aran is a soft yet rustic four-ply yarn with neutral specks


View Large Image
Austra's Kit

"Austra's tree is the tree of life, it is the sunrise with the morning star at its center. Austra's tree grows both up to the heavens and down towards earth. Energy and ideas from the cosmos come to us as dreams, ideas, intuition and inspiration."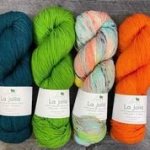 View Large Image
Baah Four Pack Kits

These carefully chosen color combinations are perfect for a variety of projects from shawls to sweaters


View Large Image
Bainbridge Tam and Cowl Kit

Kit includes: 5 hanks of yarn, knitting pattern instructions, and cloth bag. This lightweight cap can be knit up and simply blocked flat for a slouchy silhouette, or over a plate to turn the stunning star-patterned crown into a tam.


View Large Image
Baklava Cowl Kit

Baklava is not only a rich, decadent dessert, but also a name for Puff stitch in Turkish. The moebius cowl is crocheted flat, repeating one simple row in 2 colorways - tonal Monokrom alternated with Uneek's stripes.


View Large Image
Breckenridge Bundle Hat Kit
View Large Image
Brooklyn Crochet Wrap

A crochet granny square wrap with a twist. Multi-colored granny squares line one edge of this wrap and a solid color is used throughout the rest of the pattern, making this a great accent piece for your fall and winter outings.


View Large Image
Chic Shawl Kit

Includes enough yarn and Pattern in Ravelry to make the Chic Shawl by Yumiko Alexander.


View Large Image
Christmas Stocking Kit - Appalachian Baby

Classic Christmas colors and a location for that special someone's initials. Pattern includes an alphabet schematic. This pattern, knitted circularly from the toe up, is suitable for knitters comfortable with stranded knitting. Approx 13x20inches


Colosseum Socks Kit
View Large Image
Cooma Cowl-Emma's Yarn

Cooma is a light and airy cowl that provides lots of warmth. Holding fingering and mohair together is all the rage right now (and for good reason, it's stunning!)


View Large Image
Cottage Grove Cowl Kit

A fun use of the linen stitch combined with both Solid and Printed Organic Cotton (Worsted) makes this piece soft, colorful and seasonless.



Out of Stock
View Large Image
Crescent Shawl Kit - Baah

The Crescent Shawl pattern uses 7 mini skeins of Baah La Jolla fingering weight. Each mini skein is approximately 130 yards, for a total of 910 yards. The pattern is made of a series of garter section and garter stripes made by alternating 2 colors.


View Large Image
Crown Wools Kit

A variety of different stitches to keep things interesting, interspersed with more easy stitches for relaxing. Not to mention the colors.



Out of Stock
View Large Image
Edmonton Wrap
View Large Image
Effuary Cowl Kit

Casapinka's newest design is a knitted cowl using 424 yds of Bulky in 4 colors!


Festive Mistletoe Sock kit
View Large Image
Forest Lake Hat and Cowl

Warm and colorful, this generous cowl and coordinating hat can be knit with four hanks of Extra. A beautiful blend of baby alpaca and fine merino.



Out of Stock
View Large Image
Fringealicious Shawl Kit - Baah

Fringealicous is fun to knit & great for beginners or those who love color fades. To get the color effect, you will hold 2 strands of yarn throughout. With one pattern row, this shawl really lets the hand-dyed yarn be the star of the show.


View Large Image
Funfunfun

This shawl is all about having fun! Playing with color and texture, it knits up into an airy, yet cozy, shawl with a long wingspan. Perfect for flying thru those last Winter days that head into the Spring we long for with its sunshine and bright blooms.


View Large Image
Gavina Wrap Kit

An easy to knit versatile wrap with long ties. Approx 32.5" wide, 18" high with edges unrolled. Classic Elite Yarns Gavina designed by Susan Mills is a versatile rectangular wrap, with extra long ties, that is worked in one piece in stockinette stitch



Out of Stock
Goat Cowl Kit-Emma's Yarn
View Large Image
Grand Portage Hat and Mitts Kit

Knit with three hanks of Woolstok North, this super bulky yarn knits up fast. An excellent choice for gift-giving, this colorful hat and mitt combo is perfect for a cold, winter day.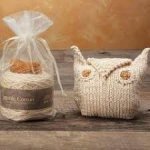 View Large Image
Great Horned Owl Kit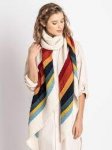 View Large Image
Gresham Wrap Kit
Happy Feet Sock Kit -Baah