Addi
Addi Turbo circular knitting needles are the ultimate circular needles for knitters of all skill levels. Made of nickel, brass or bamboo with soft, pliable cables connected via snag-free joints, these wonderful needles increase your knitting speed.




Chiaogoo
Our RED line of surgical stainless steel circulars have a smooth, satin-sheen finish and memory-free, multi-strand, steel cable coated with red nylon allowing yarn to slide right over. Needle size is permanently laser imprinted on each circular. Precisely




Circular Knitting Needles





Double Point Needles





Interchangeable knitting needle sets





Knitters Pride
Our needles are available in a full range of types: Double Points, Fixed Circulars, Single Points, Crochet, Cuboid and an interchangeable line that is innovative in design and satisfying in performance - as well as very affordable!




Other Needles
Other, discontinued needles



CG twist 5" IC set complete

Each set includes needle tips made of surgical-grade stainless steel and 3 steel cables coated in nylon with lifeline holes to make creating your next project a breeze.


Chiaogoo Double point sock set

This sock-sized set includes six sets of 6" (15 cm), surgical stainless steel double points in sizes 0, 1, 1.5, 2, 2.5 & 3 , 12 stitch markers, a 3" (8 cm) needle gauge, and a compact, zipper-enclosed fabric case with outside zippered pocket.


Circular Needle Case
Mindful interchangeable needle set-Knitters Pride

Explore a set of tools that helps harness the spirit of the soulful craft of knitting.


Twist Redlace interchangeables- Chiaogoo
US 0 12" circ Chiaogoo
US 0 24" Naturalz - Knitters Pride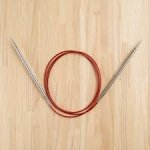 US 0 40" circ Chiaogoo
US 0 40" Circ Naturlaz- Knitters Pride
US 0 9" circ Chiaogoo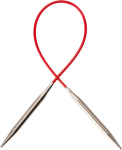 US 1 12" circ Chiaogoo
Out of Stock
US 1 16" circ Addi Rocket
US 1 16" circ Chiaogoo
US 1 60" circ Addi Rocket
US 1 9" circ Chiaogoo
US 1.5 12" circ Chiaogoo
US 1.5 16" circ Addi Rocket
US 1.5 16" circ Chiaogoo
US 1.5 32" circ Chiagoo-Red
US 1.5 32" circ Knitters Pride Bamboo
US 1.5 32" circ Smartstix- Knitters Pride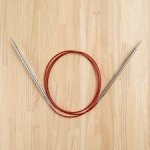 US 1.5 40" circ Chiagoo-Red
Out of Stock
US 1.5 40" circ Knitters Pride Bamboo
US 1.5 40" circ Smartstix-Knitters Pride
US 10 24" circ Chiagoo
US 10 24" circ Hiya Hiya Sharp
US 10 24" circ Knitters Pride Bamboo

Us 10 24? Circ Bamboo-Knitters Pride


US 10 40" Circ Chiagoo
US 10 40" circ Knitters Pride Bamboo
US 10 40" circ Smartstix- Knitters Pride
us 10 tips addi click
US 10.5 16" circ Smartstix -Knitters Pride
US 10.5 24" circ Knitters Pride Bamboo

US 10.5 24? Circ Bamboo -Knitters Pride


US 10.5 24" circ Smartstix -Knitters Pride
US 10.5 32" circ Addi Turbo
US 10.5 32" circ Chiaogoo
US 10.5 32" Circ. Karbonz

US 10.5 32 Circ. Karbonz



Out of Stock
US 10.5 40" Circ Chiagoo-Red
Out of Stock
US 10.5 40" circ Knittiers Pride Bamboo
US 10.5 440" Circ Chiaogoo Bamboo