Chiaogoo 5" tip Complete set

Each set includes needle tips made of surgical-grade stainless steel and 3 steel cables coated in nylon with lifeline holes to make creating your next project a breeze.


Chiaogoo Double point sock set

This sock-sized set includes six sets of 6" (15 cm), surgical stainless steel double points in sizes 0, 1, 1.5, 2, 2.5 & 3 , 12 stitch markers, a 3" (8 cm) needle gauge, and a compact, zipper-enclosed fabric case with outside zippered pocket.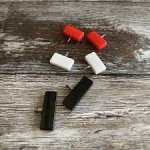 Chiaogoo End Stopper

ChiaoGoo End Stoppers come in a pack of 2. They screw into the ends of your ChiaoGoo interchangeable knitting cables to hold stitches so you'll find them handy especially when you're travelling or if you need to use your tips for another project!


End Stoppers-Chiaogoo
Twist Cables-Chiaogoo

TWIST cables are memory-free! They consist of a multi-strand, steel cable coated with red nylon.


Twist Redlace interchangeables- Chiaogoo
US 0 12" circ Chiaogoo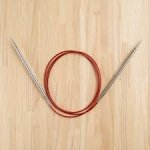 US 0 40" circ Chiaogoo
US 0 6" DP-Chiaogoo Bamboo
US 0 9" circ Chiaogoo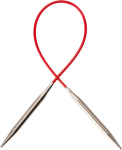 US 1 12" circ Chiaogoo
US 1 16" circ Chiaogoo
US 1 24" circ Chiaogoo
Us 1 32" circ Chiaogoo

Us 1 32" circ Chiagoo


US 1 40" circ Chiagoo-Red
Out of Stock
US 1 40" circ Chiaogoo Lace
US 1 6" DP Chiaogoo Bamboo
Out of Stock
US 1 9" circ Chiaogoo
US 1.5 12" circ Chiaogoo
US 1.5 16" circ Chiaogoo
US 1.5 32" circ Chiagoo-Red
us 1.5 32" circ ChiaoGoo red lace

us 1.5 32" circ ChiaoGoo red lace


US 1.5 6" DP Chiaogoo Bamboo
Out of Stock
us 1.5 9" circ ChiaoGoo

us 1.5 9" circ ChiaoGoo


us 10 16" circ ChiaoGoo

us 10 16" circ ChiaoGoo


US 10 24" circ Chiagoo
US 10 32" circ Chiagoo-Red
Out of Stock
US 10 40" Circ Chiagoo
US 10.5 24" circ Chiagoo-Red
US 10.5 32" circ Chiaogoo
US 10.5 40" Circ Chiagoo-Red
Out of Stock
US 10.5 40" Circ Chiaogoo Bamboo
US 10.5 440" Circ Chiaogoo Bamboo
US 10.75 16" circ Chiaogoo
US 10.75 32" circ Chiaogoo Red Lace
US 11 16" circ ChiaGoo
Out of Stock
US 11 24" Circ Chiagoo-Red
Out of Stock
US 11 32" Circ Chiagoo-Red
US 11 40" Circ Chiagoo
Out of Stock
US 13 16" Chiaogoo Red Lace