Skip Navigation
Website Accessibility
Chiaogoo
Needles > Chiaogoo
Showing 1 - 40 of results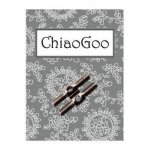 View Large Image
Cable Connectors-Chiaogoo

Tic tac sized pieces allow you to join two or more cables together. [S] coded connectors fit onto all [S] coded cables. [L] coded connectors fit onto all [L] coded cables. MINI connectors (Item #2501-M) only work with the MINI cables and tips.


View Large Image
Chiaogoo 5" tip Complete set

Each set includes needle tips made of surgical-grade stainless steel and 3 steel cables coated in nylon with lifeline holes to make creating your next project a breeze.


View Large Image
Chiaogoo Blue X Flex Shortie Cables

Blue, extra flexible, memory-free, nylon coated, multi strand steel cable.


Chiaogoo Crochet Hooks
View Large Image
Chiaogoo Double point sock set

This sock-sized set includes six sets of 6" (15 cm), surgical stainless steel double points in sizes 0, 1, 1.5, 2, 2.5 & 3 , 12 stitch markers, a 3" (8 cm) needle gauge, and a compact, zipper-enclosed fabric case with outside zippered pocket.


View Large Image
Chiaogoo Interchangeable Needle Adapter

ChiaoGoo Cable Interchangeable Adapters are made of stainless steel and allow you to go from a [L] interchangeable Twist/Spin tip to a [S] interchangeable Twist/Spin cable.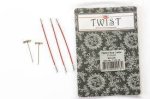 View Large Image
Chiaogoo Red Cable Shorties

Need a little more cable length for your project? Add these to your current cable with one of our connectors. Want to make flexible double points? Use these with your desired length of interchangeable tips.


View Large Image
Chiaogoo Twist Interchangeable tips

These 5? (13 cm) precisely-machined, lace tips are made of surgical stainless steel. The size is laser imprinted on each tip. [S] & [L] TWIST™ tips can be used with SPIN™ nylon cables.


View Large Image
End Stoppers-Chiaogoo

The ChiaoGoo End Stoppers are perfect for when you need to switch needle sizes between projects! Screw the end stoppers into the ends of your ChiaoGoo Cables to keep hold of your current project while you use your needle tips for another project.


Twist Lace Tips-Chiagoo
Length:
Needle Size:

Price

$10.00

Quantity:

Add to Cart




View Large Image
Twist Red Cables-Chiaogoo

TWIST cables are memory-free! They consist of a multi-strand, steel cable coated with red nylon.


View Large Image
Twist Redlace interchangeables- Chiaogoo
View Large Image
US 0 12" circ Chiaogoo
View Large Image
US 0 24" Chiaogoo Red Lace
View Large Image
US 0 32" Circ Chiaogoo Red Lace
US 0 40" Circ Chiagoo Bambo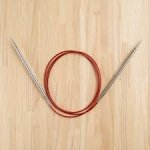 View Large Image
US 0 40" circ Chiaogoo
US 0 40" circ Chiaogoo Red Lace
View Large Image
US 0 6" DP-Chiaogoo Bamboo
View Large Image
US 0 9" circ Chiaogoo
Out of Stock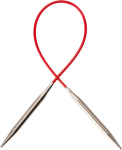 View Large Image
US 1 12" circ Chiaogoo
View Large Image
US 1 16" circ Chiaogoo Red Lace
View Large Image
US 1 24" circ Chiaogoo
Out of Stock
US 1 24" circ Chiaogoo Red lace
US 1 32" circ Chiaogoo Red Lace
View Large Image
US 1 40" circ Chiagoo-Red
Out of Stock
View Large Image
US 1 40" circ Chiaogoo Lace
View Large Image
US 1 6" DP Chiaogoo Bamboo
Out of Stock
View Large Image
US 1 9" circ Chiaogoo
View Large Image
US 1.5 12" circ Chiaogoo
View Large Image
US 1.5 16" circ Chiaogoo
View Large Image
US 1.5 16" circ Chiaogoo Red Lace
View Large Image
US 1.5 32" circ Chiagoo-Red Lace
US 1.5 40" Circ Chiaogoo Bamboo
US 1.5 40" Circ Chiaogoo Red Lace
View Large Image
US 1.5 6" DP Chiaogoo Bamboo
Out of Stock
View Large Image
us 1.5 9" circ ChiaoGoo Bamboo

us 1.5 9" circ ChiaoGoo


US 1.5 9" circ Chiaogoo Bamboo
View Large Image
us 10 16" circ ChiaoGoo

us 10 16" circ ChiaoGoo


View Large Image
US 10 24" circ Chiagoo