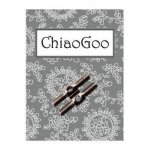 Cable Connectors-Chiaogoo

Tic tac sized pieces allow you to join two or more cables together. [S] coded connectors fit onto all [S] coded cables. [L] coded connectors fit onto all [L] coded cables. MINI connectors (Item #2501-M) only work with the MINI cables and tips.


Chiaogoo 4" Complete Set
Chiaogoo 5" tip Complete set

Each set includes needle tips made of surgical-grade stainless steel and 3 steel cables coated in nylon with lifeline holes to make creating your next project a breeze.


Chiaogoo Twist Interchangeable tips

These 5? (13 cm) precisely-machined, lace tips are made of surgical stainless steel. The size is laser imprinted on each tip. [S] & [L] TWIST™ tips can be used with SPIN™ nylon cables.



Out of Stock
Ginger Rosewood Interchangeable Needle Set

Knitters Pride Ginger 4.5" Interchangeable Deluxe Long Tip Knitting Needle Set Made from premium quality denim and beige finish material - the most usable needle case - incorporates a pattern holder. Includes needles in 13 sizes to cover all yarn weights.



Out of Stock
Hiya Hiya Interchangeable tips
Out of Stock
Twist Redlace interchangeables- Chiaogoo