#13 Tapestry Needles-Colonial
#13 Yarn Needles - Boye

Boye Yarn Yarn Needles have large eyes and blunt tips, perfect for needlepoint, plastic canvas, weaving in yarn ends or stitching side seams.


Accessory roll- Cocoknits

Take the whole roll, or unsnap and take just what you need. It's washable and durable, made out of kraft paper fabric, which softens the more you wash it.


Ball Winder-Knitters Pride
Out of Stock
Bamboo Cable Needles - Cocoknits

Bamboo double-pointed needles are great for two things, when working cables and when picking up stitches to create the shoulders of a Cocoknits Method sweater. Bamboo is stickier than metal so the needle doesn't slip out of stitches as easily.


Bent Tip Darning Needle Set-SB#13/#16
Check your gauge Cloth

Thin cotton cloth, woven to 1" / 2.5cm square gingham. The thread is pre-treated before the fabric is woven to prevent stretching, shrinking, or distortion.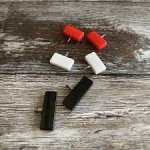 Chiaogoo End Stopper

ChiaoGoo End Stoppers come in a pack of 2. They screw into the ends of your ChiaoGoo interchangeable knitting cables to hold stitches so you'll find them handy especially when you're travelling or if you need to use your tips for another project!


Chibi Jumbo Darning needle set
Circular Needle Case
Colorful Magnet Set- Cocoknits

Designed to be used with our MAKER'S BOARD, this Colorful Magnet set is made from plastic-free PLA (plant fiber) and very strong magnets, strong enough that both the front and back will work. Note: Tools sold separately.


Colorful Stitch Markers - Cocoknits

Super smooth, steel based, nylon coated marker in a rainbow of colors


Crystalite Tapestry Needles-SB
Out of Stock
End Stoppers-Chiaogoo
Highlighter Tape
Inox Mohair Brush
Interchangeable Needle Case
Knitting Barber Cords
Love and Leche Anywhere Balm

Hand-poured in small batches. At 0.5oz, the Anywhere Balm is commonly referred to as the Cuticle Cure! By design, it is the perfect balm for getting in and moisturizing all the "nooks and crannies" of the finger and hand.


Magnetic Ruler-CocoKnits
Maker's Board-Cocoknits

Made with washable kraft fabric, there are internal metal sheets that make every surface magnetic. When you prop one side up for display, the angle is completely adjustable, making it even more versatile.


Omnigrid Glow-Line Tape

Highlight important lines and measurements on rulers with the Dritz Omnigrid Glow-Line Tape.



Out of Stock
Prym Gold Eye Tapestry Needle- 18
Out of Stock
Row Counter - Cocoknits
Scissors - Bright Polka Dot
Out of Stock
Snag Nab-it
Out of Stock
Split Ring Markers - Pony

Split ring markers let you mark your place quickly and easily and are very helpful for measuring sections and counting rows. With the split design, you can slip the marker onto the stitch yet just as easily remove the marker without snagging your yarn.


Split ring Stitch Markers- CoCoKnits
Stitch Stoppers-CocoKnits

Cylinders made of durable, EVA foam in a variety of sizes with an opening in the middle that accommodate everything from size 0 (or the cord of an interchangeable needle set) to a US 15


Tape Measure-Cocoknits

The bright colors will ensure you can always find it in your project bag.


Tapestry Needle-SB 3.75"
Out of Stock
Tapestry Needles -SB 2.75"
Out of Stock
Twill & Print Stitch Markers RS
Twist Cables-Chiaogoo

TWIST cables are memory-free! They consist of a multi-strand, steel cable coated with red nylon.


Umbrella Swift-Small
Out of Stock
us 1 32" circ Knitters Pride Bamboo
US 1 40" circ Chiaogoo Lace
US 2 40" circ Chiaogoo Red Lace
Out of Stock
US 2.5 32" circ Knitters Pride Bamboo
Out of Stock
US 5 40" circ Knitters Pride-Bamboo