Katrinkles Adjustable Mitten Blocker
Stitch Markers - Cocoknits

Super smooth, steel based, nylon coated marker in a rainbow of colors


#13 Tapestry Needles-Colonial
Out of Stock
#13 Yarn Needles - Boye

Boye Yarn Yarn Needles have large eyes and blunt tips, perfect for needlepoint, plastic canvas, weaving in yarn ends or stitching side seams.


Accessory Roll - Cocoknits

Take the whole roll, or unsnap and take just what you need. It's washable and durable, made out of kraft paper fabric, which softens the more you wash it.


Adjustable Pom Pom Tool-Katrinkles

These adjustable blockers are great for knitters who frequently wash and block mittens. Adjusts to fit small, medium, and large mittens Disassembles for convenient storage and portability Triangle top piece can be used for blocking pointed mittens.


Ball Winder-Knitters Pride
Out of Stock
Bamboo Cable Needles - Cocoknits

Bamboo double-pointed needles are great for two things, when working cables and when picking up stitches to create the shoulders of a Cocoknits Method sweater. Bamboo is stickier than metal so the needle doesn't slip out of stitches as easily.


Bent Tip Darning Needle Set-SB#13/#16
Out of Stock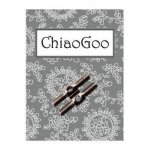 Cable Connectors-Chiaogoo

Tic tac sized pieces allow you to join two or more cables together. [S] coded connectors fit onto all [S] coded cables. [L] coded connectors fit onto all [L] coded cables. MINI connectors (Item #2501-M) only work with the MINI cables and tips.


Check your gauge Cloth

Thin cotton cloth, woven to 1" / 2.5cm square gingham. The thread is pre-treated before the fabric is woven to prevent stretching, shrinking, or distortion.


Chiaogoo Blue X Flex Shortie Cables

Blue, extra flexible, memory-free, nylon coated, multi strand steel cable.


Chiaogoo Interchangeable Needle Adapter

ChiaoGoo Cable Interchangeable Adapters are made of stainless steel and allow you to go from a [L] interchangeable Twist/Spin tip to a [S] interchangeable Twist/Spin cable.


Chiaogoo Twist Interchangeable tips

These 5? (13 cm) precisely-machined, lace tips are made of surgical stainless steel. The size is laser imprinted on each tip. [S] & [L] TWIST™ tips can be used with SPIN™ nylon cables.


Chibi Jumbo Darning needle set
Out of Stock
Circular Needle Case
Colorful Magnet Set- Cocoknits

Designed to be used with our MAKER'S BOARD, this Colorful Magnet set is made from plastic-free PLA (plant fiber) and very strong magnets, strong enough that both the front and back will work. Note: Tools sold separately.


Crystalite Tapestry Needles-SB
Out of Stock
Darning and Mending Loom Clip
Emery Board- Cocoknits

The perfect little file to keep in a project bag or Accessory Roll.


End Stoppers-Chiaogoo

The ChiaoGoo End Stoppers are perfect for when you need to switch needle sizes between projects! Screw the end stoppers into the ends of your ChiaoGoo Cables to keep hold of your current project while you use your needle tips for another project.


Etsy Pom Poms

Be stylish & animal friendly with these luxe, faux fur pom poms. The perfect topper for knit hats or as an alternative to tassels on the ends of a scarf. Choose from an array of natural & fun colors.


Flight of Stitch Markers-CocoKnits

For anyone who's not sure which style of Cocoknits stitch marker to try first, here's a handy sampling. Just like a wine or craft beer tasting 'flight', our Flight of Stitch Markers offers a wide variety of styles and sizes to experiment with!


Highlighter Tape
Knitting Barber Cords
Large Super Absorbent Towel- CocoKnits

This towel speeds up the process of drying hand washables by absorbing excess water from your garment before air drying. By gently removing excess water and shortening drying time, our towel will help your knits look their best for years to come.


Logo Tag-Katrinkles
Love and Leche Anywhere Balm

Hand-poured in small batches. At 0.5oz, the Anywhere Balm is commonly referred to as the Cuticle Cure! By design, it is the perfect balm for getting in and moisturizing all the "nooks and crannies" of the finger and hand.


Magnetic Ruler-CocoKnits
Maker's Board-Cocoknits

Made with washable kraft fabric, there are internal metal sheets that make every surface magnetic. When you prop one side up for display, the angle is completely adjustable, making it even more versatile.


Maker's Clip
Maker's Keep - Cocoknits

No more cable needles in your mouth, or stitch markers balanced on the chair arm! This bracelet puts the fun in functional, with delightful colors and thoughtful details like both metric and inch measurements on the underside of the band.


Mini-Tools -Katrinkles

These lightweight, 2.5" square tools are handy to have along, whether you tuck them inside your knitting bag or hang them from the ball chain loop outside for easy access.


Needle Felting Pen
Needle Gauge-Cocoknits

The Cocoknits Needle Gauge is a fun way to keep a compact tool with you at all times. With sizes from US 0 (2.00mm) to US 15 (10.00mm), you can easily check the size of your needles for projects from socks to chunky scarves and everything in between.



Out of Stock
Omnigrid Glow-Line Tape

Highlight important lines and measurements on rulers with the Dritz Omnigrid Glow-Line Tape.



Out of Stock
Pop Up Dryer -CocoKnits

The Sweater Care Pop-up Dryer will help air dry hand washables more quickly by allowing increased airflow above and below your garment.


Prym Gold Eye Tapestry Needle- 18
Out of Stock
Row Counter - Cocoknits
Scissors - Bright Polka Dot