2nd Time Cotton - Knit One Crochet Too

Made out of 100% recycled cotton and acrylic fiber. The cotton originating from the garment industry, either via scraps on the cutting room floor, unused fabric or old garments that are on their way to the dump. By recycling textile waste, we help reduce


Alpaca Sox - Classic Elite

Your tootsies will thank you for knitting socks in this lovely color-washed sock yarn. Classic Elite Alpaca Sox contains a generous dose of 60% alpaca with a heaping helping of merino to make soft, warm socks (or mittens!), and the array of colors in each



Out of Stock
Baby Yarn - Feza

Baby Yarn - Feza


Big Liberty Wool - Classic Elite

With all the great qualities of wool and the ease of machine washability, Liberty Wool knits at a gauge that suits many designs and is ideal for children's pieces as well as those for adults. VERY limited quatntities


Big Wool - Rowan

Big Wool takes the knitability of a super chunky and transforms it with pure Merino wool, raising the bar by which all other 'beginner' yarns are measured. Big Wool is not just for new knitters though. With a super light spin and paintbox colour palette,


Bulky - Blue Sky Fibers

A single-ply bulky weight blend of soft alpaca and springy wool results in a chunky yarn that?s a quick knit for warm and cozy projects.


Burly Spun - Brown Sheep

Brown Sheep Lamb's Pride Bulky is a classic single ply wool and mohair blend that is a staple of the fiber arts world. It is great for projects of any kind and the mohair adds softness and a slight luster. Whether you're knitting, crocheting or felting, y


Chunky - Malabrigo

One of our classics! We took our Merino Worsted, fattened it up, and plied it to create this squooshy treat of a yarn! Chunky?s nice smooth texture and semi-solid colors make it perfect for bulky cables and bold textures - or choose a variegated colorway


Co Ba Si Fingering - HiKoo

Finally, a wool-free sock yarn! Knitters and the lucky people they knit for have long clamored for a wool-free sock yarn, something that wouldn?t irritate or overheat. Meet HiKoo CoBaSi?a cotton, bamboo and silk blend that also has a generous amount of


Cotton Fleece - Brown Sheep

Cotton and wool are two natural fibers with their own amazing properties?when the two are combined, the result is a wonderfully unique blend with all the advantages of each fiber. Cotton Fleece is spun with 80% pima cotton and 20% merino wool. It derive


Eco Wool - Cascade

Ecological Wool? is 100% Natural Peruvian Wool that's undyed so the colors are just as they come from the sheep. Soft and wearable, this wool is perfect to either knit up some warm and cozy garments or for felting accessories. The yarn comes in solids or


Eco+ - Cascade

Eco+ is 100% Natural Peruvian Wool. Eco+ is the colorful version of our popular Ecological Wool? with a wide range of stunning solid colors. Soft and wearable, this wool lends itself to either garments or felting. Eco+ comes in big generous skeins, it's


Griffon - Biscotte Yarns

Griffon is a self-striping, aran weight yarn made of superwash merino wool. The 2 ply yarn is hand dyed in a variety of fun colors. This cozy yarn knits up smoothly to create snuggly soft cowls, scarves, mittens and more.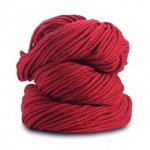 Hand Dyes - Blue Sky Fibers

Hand Dyes - Blue Sky Fibers


Koigu Gradient Pack

Putting together colours can be a challenging task. Some of us love the challenge, some not. We have dyed special KPPPM Tonal Multi Family sets to help you in your next project. We have been also dying 5-color set in our tonal KPM solids. The gradient set



Out of Stock
KPPPM - Koigu

KPPPM (Painter's Palette Premium Merino) is here in brilliant colors that have to be seen to be believed. This incredible, hand-painted, 100% merino wool fingering weight yarn offers a vast range of variegated color combinations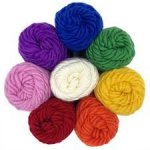 Lambs Pride Bulky - Brown Sheep

Brown Sheep Lamb's Pride Bulky is a classic single ply wool and mohair blend that is a staple of the fiber arts world. It is great for projects of any kind and the mohair adds softness and a slight luster. Whether you're knitting, crocheting or felting, y


Valkyrie - Dragonfly Fibers

Valkyrie - Dragonfly Fibers