Baby Merino Silk DK - Rowan

This touchable blend of comfy superwash wool & smooth silk is a versatile one-ply yarn, perfect for baby & kid's garments & for light, drapey, easy-to-care-for adult projects, too. Machine washable so there's no need to sacrifice practicality for luxury.


Co Ba Si DK - Hikoo

CoBaSi DK is a delightfully soft blend of cotton, bamboo, silk and elastic. This versatile DK weight yarn is also machine-washable! It's a great choice for warmer weather garments and comes in a range of solid colors that are sure to please anyone.


Co Ba Si Fingering - Hikoo

A wool-free sock yarn. Knitters and the lucky people they knit for now have a wool-free sock yarn, something that won't irritate or overheat.


Escape - Classic Elite

A combination of merino, mulberry silk & yak in a single ply. This DK yarn has a slight heathered look from the darker undyed yak fibers. With incredible softness and good stitch definition, Escape is a go-to luxury yarn at a less than luxury price.



Out of Stock
Firefly - Classic Elite

Firefly - Classic Elite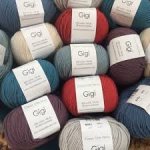 Gigi - Classic Elite

Gigi is a DK to light worsted weight summer yarn that combines cotton with a bit of silk to make this a joy to work. 9 plies create a round yarn with excellent stitch definition; fabric has bounce, spring, & a squishable hand that other cottons may lack.


Kenzie - Hikoo

The smooth, round 3-ply yarn knits into a cohesive fabric that blooms when wet blocked. The angora haze is just fuzzy enough to lend a cozy feel, but not so fuzzy that it will obscure any stitch patterning.


Mad Hatter - Wonderland

With its excellent stitch definition, Mad Hatter is a superb choice for cabled and textured projects from sweaters to accessories. While this hand dyed yarn can be machine washed, Wonderland Yarns recommends hand washing to preserve color.


Nature Spun Sport - Brown Sheep

The 3-ply construction of Nature Spun gives it spring, smoothness and strength, making it a perfect choice for knitting or crocheting garments and accessories. Nature Spun is an excellent choice for weaving as well.


Provence - Classic Elite

This is a mercerized Egyptian cotton that knits into a strong & beautiful fabric. Egyptian cotton has a long fiber length which gives this yarn strength & sheen making it perfect for babywear, warm weather garments, socks, shawls and accessories.


Soft Linen - Classic Elite

Soft Linen is the perfect yarn for warmer days and soft, cool nights. The alpaca makes a beautiful halo, the linen gives it a crisp and firm hand and the wool provides stability and its own level of softness. This year-round yarn works equally well for l


Song - Classic Elite

Cotton and wool combine in this luxurious dk weight yarn giving excellent stitch definition in a sophisticated palette. Perfect for year round wear, babies to adults, in cables, lace, colorwork or plain stockinette. Song does it all beautifully!


Synchrony - Brown Sheep

Synchrony is a brand-new twist on Brown Sheep yarns, in a multicolored blend of 60% cotton and 40% wool. We can see this blend used for accessories like shawls and wraps, mitten and hats. A kid?s cardi would be playfully fun in this yarn.


Traveller - Dragonfly

Traveller is a fantastically soft, hand-dyed yarn. This DK plied yarn will work up into sweaters with next-to-skin softness and accessories that you'll love to show off. Traveller is machine-washable making it ideal for family-friendly projects and gifts.


Unisono

Unisono