Alegria Superpool Sock Kits

Full skein of Alegria is dyed in bright swirling colors that are designed to stripe and pool! Of course, Alegria Superpool Kits aren't just for socks. Hats, shawls, sweaters, whatever strikes the crafter's fancy!


Colosseum Socks

These socks are worked from the cuff down, starting with a picot edge and then a color-work leg, along with color-contrast heels and toes. this pattern is designed to have about 2" of negative ease.


Colosseum Socks Pattern
Honeybear Hoodie & Sweetie Socks Spud & Chloe

Little ones love to be out and about, so a comfy little jacket to chase away the chill is essential. Adorable matching socks pattern included



Out of Stock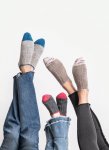 Lilydale Footies - Blue Sky Fibers

Knit with your choice of Spud & Chlo? Fine, Stripey Fine or a mix of both, the options are endless. Sized from child to adult, these machine washable fun-to-wear footies are a colorful addition to any outfit.



Out of Stock
Sanborn Socks

Knit from the top down in Woolstok, the Sanborn socks are extremely soft and warm on your feet


Sunday Morning Slippers - Spud and Chloe