14 Color Woolstok Light wrap

The 14 Color Woolstok Light Wrap is a beautiful canvas for the heathered shades of Woolstok Light yarn, striping them in various thicknesses for an intriguing effect.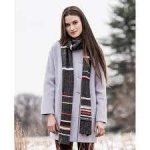 21 Color Scarf -Pattern

21 color mini hanks of Woolstok (83 yds ea) plus one base color woolstok (150 gram)


21 Color Scarf Kit - Blue Sky Fibers

Colorful, generous in length, reversible and warm; this scarf has it all. With endless styling options, it looks great on both men and women.



Out of Stock
Afton Shrug - Blue Sky Fibers

The Afton is a simple rectangle that?s knit in one piece and joined under the arm. This layering piece works well with jeans and dresses and is great for all seasons. It?s knit in soft Organic Cotton, in garter stitch with a wide rib.


Albany Alpaca Cowl Pattern
Aspen Slouch Pattern

Blue Sky Fibers Aspen Slouch is a fun striped women's hat knit in Woolstok Tweed Aran.



Out of Stock
Ausable - Paper Moon Knits

Ausable - Paper Moon Knits


Bainbridge Tam and Cowl Pattern

This lightweight cap can be knit up and simply blocked flat for a slouchy silhouette or over a plate to turn this stunning cap into a tam.



Out of Stock
Bellview Crochet Wrap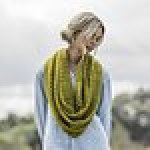 Bellview Crochet Wrap

A crocheted wrap featuring a very light-weight and wearable fabric. An easy eyelet pattern alternating with simple double crochet lets any underlying colors peek through



Out of Stock
Birch Bark Canoe - Handmaiden

This crescent shawlette is knit using Flyss yarn, in the Peppercorn colorway. Knit in stockinette with a wave lace pattern at the end to emulate a birch bark canoe on the Canadian waters. One size but can be easily adjusted.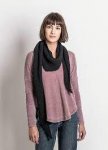 Bloomington Bandana

3 skeins Organic Cotton Skinny 450 yds Advanced Beginner


Cabled Cowl - Blue Sky Fibers

Intricate cabling and clever construction make this striking cowl an intriguing knit.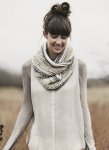 Caledonia Cowl - Blue Sky Fibers

Worn long or doubled up, this versatile cowl will become your new favorite accessory. Quick to knit and beginner friendly, you simply cast on with two strands of our super soft Organic Cotton and knit garter stitch back and forth lengthwise, sewing it up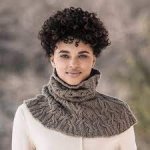 Clarissa Cabled Cowl Pattern -Blue Sky Fibers
Clarkston Cowl Kit

Kit includes: 4 hanks of yarn, knitting pattern instructions, and washable project bag.


Cottage Grove Cowl Kit

A fun use of the linen stitch combined with both Solid and Printed Organic Cotton (Worsted) makes this piece soft, colorful and seasonless.



Out of Stock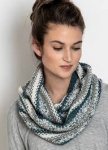 Cottage Grove Cowl pattern

Four colors Organic Cotton 600 yds Advanced Beginner


Crosby Crochet Wrap
Out of Stock
Daisy Stole

This is a most fashionable crocheted wrap of etched waves and flowers, a charming piece to wear to any soirée. Keep the chill night air off your shoulders with an elaborate, but pleasantly repetitive, stitch pattern.


Ebadi Scarf

The Ebadi scarf is knit lengthwise, with a mesh-stitch panel shrinking at one end of the row while growing at the other, separated by a constant panel of seed stitch.


Effuary Cowl Kit

Casapinka's newest design is a knitted cowl using 424 yds of Bulky in 4 colors!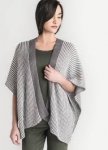 Esko Kimono

With stunning striping and an elegant drape, the Esko Wrap is a versatile piece that can be styled to a casual look or be worn for dressier occasions. The butter soft silk blend makes this an easy-to-wear piece that completes any outfit.



Out of Stock
Forest Lake Hat and Cowl

Warm and colorful, this generous cowl and coordinating hat can be knit with four hanks of Extra. A beautiful blend of baby alpaca and fine merino.


Fringealicious Shawl Kit - Baah

Fringealicous is fun to knit & great for beginners or those who love color fades. To get the color effect, you will hold 2 strands of yarn throughout. With one pattern row, this shawl really lets the hand-dyed yarn be the star of the show.


Funfunfun

This shawl is all about having fun! Playing with color and texture, it knits up into an airy, yet cozy, shawl with a long wingspan. Perfect for flying thru those last Winter days that head into the Spring we long for with its sunshine and bright blooms.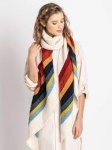 Gresham Wrap -Pattern

8 colors Blue Sky Woolstok: 740 yds main color 861 yds total 7 contrast colors Advanced Beginner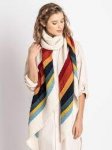 Gresham Wrap Kit
Harris Wrap

Baby Alpaca- 5 (6) hanks and Techno 5(6) hanks. 1150-1380 total yards Advanced Beginner


Issaquah Cowl Kit
Issaquah Cowl Pattern- Blue Sky Fiber

This unisex ombré cowl combines two great yarns held together on larger needles, making it a quick knit and a great gift.



Out of Stock
Janesville Jacket - Blue Sky Fibers

On the go or cozy at home, the Janesville Jacket is one size fits most. Knit in Woolstok; 100% Highland Peruvian Wool, with an interesting seed stitch and 21 color options, you will want more than one.


Kingston Wrap

1 hank each Extra, Brushed Suri, Suri Merino, Techno, Metalico, and Baby Alpaca. All are used in this project Advanced Beginner



Out of Stock
Lava Lake Shawl Kit

Choose five colors and fade them together for this large triangular shawl. The colors fade to the middle of the shawl and then fade back to the originating color. This elegant design would also look smashing in a solid color!


Monticello Wrap

This oversize wrap incorporates a variety of textures from ribbing, stockinette, garter and lace with pops of color at each end.


Mountain Laurel
Nevis Cowl - BSF

A great advanced beginner project using both seed stitch and garter, this cowl is a quick knit on bigger needles.


Oakland Wrap

This 3 color cozy wrap cabling dream. You have endless color combinations to select from, or go neutral and just pick one solid.



Out of Stock
Persimmon Wrap Kit- Blue sky Fibers
Out of Stock
Persimmon Wrap Pattern
Out of Stock