Ausable - Paper Moon Knits

Ausable - Paper Moon Knits


Cabled Cowl - Blue Sky Fibers

Intricate cabling and clever construction make this striking cowl an intriguing knit.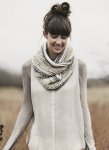 Caledonia Cowl - Blue Sky Fibers

Worn long or doubled up, this versatile cowl will become your new favorite accessory. Quick to knit and beginner friendly, you simply cast on with two strands of our super soft Organic Cotton and knit garter stitch back and forth lengthwise, sewing it up


Crosby Crochet Wrap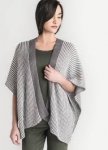 Esko Kimono

With stunning striping and an elegant drape, the Esko Wrap is a versatile piece that can be styled to a casual look or be worn for dressier occasions. The butter soft silk blend makes this an easy-to-wear piece that completes any outfit.


Funfunfun

This shawl is all about having fun! Playing with color and texture, it knits up into an airy, yet cozy, shawl with a long wingspan. Perfect for flying thru those last Winter days that head into the Spring we long for with its sunshine and bright blooms.


Kingston Wrap
Sasha Wrap

Some women just have that je ne sais quoi. Is it the way they carry themselves? Could it be where they?re from? Or, maybe it?s just the way they accessorize. This lightweight wrap in Blue Sky Fibers TECHNO is elegant, graceful, and easy-to-knit.


Vasca Cowl - Manos

Vasca is a fun and unique cowl knit using the brioche stitch. The cowl is knit flat, but instead of seaming together, buttons are used to create the closure. Using Manos del Uruguay Serena, it makes for a beautiful, cozy cowl.


Windom Silk Wrap - Blue Sky Fibers

The Windom Silk Wrap has an exquisite blend of color and sheen. Knit with five hanks of Alpaca Silk, this luxurious piece can be worn as a wrap or a scarf. Beautiful drape and stylish stripes, this easy to knit piece is everyday glamour.