Ashford Bobbins
Awl/Doffer -Ashford
Cloud Roving -Malabrigo

Cloud is our new, superwash roving yarn that will redefine your spun threads. This 100% merino wool top is machine washable, reduces pilling and reflects malabrigos known colors like never before.


Drop Spindles-Ashford
Finishing Wax Polish

Finishing Wax Polish


Kiwi 3 Carry Bag
Niddy Noddy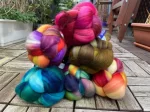 Nube - Malabrigo

ultra-soft merino now available as unspun top, in a selection of our most beloved colorways. It is truly a joy to spin, full of fluff and loft and unmatched softness! Of course, you can also knit with the roving itsself for a uniquely fluffy effect!


Spin Off Magazine
Spinning Wheel Oil-Ashford 15ml

For quiet effortless spinning The bottle contains non-staining, high grade, aromatic-free, white mineral lubricating oil classified as non-hazardous.


Superwash Merino Tops - Manos del Uruguay

Our 100% merino extrafine tops are hand dyed and will make a gorgeous home spun yarn.


Tension Spring
Out of Stock
The Wheel Magazine-Ashford

The Wheel Magazine-Ashford


Threading Hook and Tape
UP North Yarns Roving
Out of Stock
Why Knot Roving