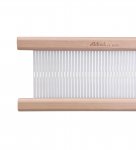 10 Dent Rigid Heddle Reed Ashford

10 dent rigid heddle reed


5/2 Cotton-Ashford
Easy Weaving with Little Looms

With weaving patterns for gorgeous rigid-heddle projects, ideas for using fun pin loom squares, and directions for creating your own woven tapestry wall hangings, Easy Weaving with Little Looms has everything you need to get started weaving.


Lazy Kate- Ashford

Suitable for single & double drive standard and jumbo bobbins. Bobbins are quick and easy to change. Stainless steel bobbin pins are removable for storage and transport. Four rubber feet prevent slipping or tipping. Convenient carry handle.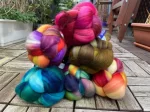 Nube - Malabrigo

ultra-soft merino now available as unspun top, in a selection of our most beloved colorways. It is truly a joy to spin, full of fluff and loft and unmatched softness! Of course, you can also knit with the roving itsself for a uniquely fluffy effect!


Rigid Heddle Warp Pegs-14 pc

Set of 14 Warping Pegs for indirect warping on the Rigid Heddle Loom


Tapestry Bobbin

Tapestry bobbins for use on all your tapestry loom, rigid heddle looms and weaving frames. Smooth lathed solid wood.


The Wheel Magazine-Ashford

The Wheel Magazine-Ashford


Warp Stick ties
Warping Peg and Clamp
Weaver's Study Course

Weaver's Study Course provides examples and directions for six main uses of weaving: clothing, accessories, interiors (Unpholstery, draperies, rugs), interior accessories (pillows, baskets, throws, placemats), toys, and wall hangings.


Weaving Patterned bands

Narrow bands woven in colorful patterns are a centuries-old part of Baltic craft tradition. The double-slotted heddle makes patterned band weaving quicker to learn and easier to do, this book offers beginners instructions for using it.


Caterpillar Cotton Yarn-Ashford

Caterpillar Cotton


Clamp-rigid Heddle- Ashford

Clamps for Ashford products. Set of 2.


Finishing Wax Polish

Finishing Wax Polish