Ball Winder- Ashford

Wind small to really large balls of yarn quickly and effortlessly with this amazing, simple-to-use Ball Winder. Features: • Wind really large balls up to 500gm (17½ozs) • Wind balls both clockwise and anti-clockwise


Boat Shuttle

Beautifully shaped and well balanced, made from Silver Beech hardwood with a lacquered finish. Includes one nylon boat shuttle bobbin.


Boat Shuttle Bobbins -Ashford

Boat Shuttle Nylon Bobbins - 10 pack


Boat Shuttle Bobbin Winder

Perfect for winding bobbins for the Ashford boat shuttles.


Clamp-rigid Heddle- Ashford

Clamps for Ashford products. Set of 2.


Double ended Reed and Heddle Hook

Threading hooks make threading your rigid heddle or table loom easy and convenient. Made from strong but flexible acetal nylon.


Fringe Twister - FT4 - Ashford

Create the perfect twisted fringe or decorative cord Twist a fringe on scarves, handwoven garments or needlework projects. Twist yarn for embellishing, edging and jewellery. Twist fibre for felting fun.


Handi Handles

This "handi" tool is designed for weavers with impaired physical strength or limited hand mobility to assist when turning the handles to advance the warp on Ashford looms.



Out of Stock
Heddle Threading Hook-Ashford

Heddle Hook - stainless steel with nylon handle.


Helping Hands Kit

Stretchy cord for warping


Hobby Bench

Freshly redesigned improved Hobby Bench crafted for comfortable weaving at your Ashford Rigid Heddle, Table or Jack Loom.


Jack Loom Treadle Ties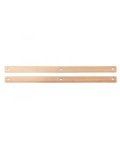 Jack Loom Wooden Warp Sticks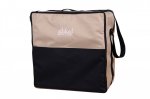 Katie Loom Carry Bag
Knitters Loom Carry Bag
Knitters Loom Stand Support Brace Kit
Pick Up Stick

Available in 7 sizes


Raddle Kit - Ashford

Beam your warp quickly, easily and evenly every time with the new, improved raddle kit. Now available for all Ashford table looms. Fuss free warping, everything included. The perfect accessory for all Ashford table looms.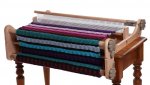 Rigid Heddle Freedom Roller

This additional roller allows you to weave longer lengths, use thicker yarns, or weave multiple projects. Weave double width projects with ease.


Rigid Heddle Second Heddle kit

Weave detailed patterns up to 30epi, double width, or double layers.


Rigid Heddle Warp Pegs-14 pc

Set of 14 Warping Pegs for indirect warping on the Rigid Heddle Loom


Second Back Beam

The second back roller and beam provides perfect tension when warping with different yarn types on the table loom. Easy to attach.


Stainless Steel Reed-Katie Loom-Ashford

High quality 12.5cm (5in) Swedish stainless reeds available in standard lengths to fit Ashford table looms.


Table Loom Bungy Cord

Table Loom Bungy Cord - 1 pair packaged


Table Loom Treadle Kit

Four shaft treadle kit for direct tie-up. Requires Loom Stand (sold seperately) - TLS40/60/80.


Tapestry Bobbin

Tapestry bobbins for use on all your tapestry loom, rigid heddle looms and weaving frames. Smooth lathed solid wood.


Tapestry Loom Warping Thread

Strong 100% cotton.


Tapestry Weaving Needles

A convenient set of 3 wooden needles. Weave hand manipulated techniques quickly and easily. Large eye for easy threading. Weave fabrics, yarns, fibres and more.


Warp Stick ties
Warp Sticks

Wood warp/cross sticks used to separate the warp threads on the beam.


Warp Thread Weights-WTW - Ashford

Use these handy warp thread weights to hold floating selvedges, supplementary or broken warp threads under tension while you weave. Designed to hold long lengths of warp thread around the central spool.


Warping Peg and Clamp
Warping Pegs-Ashford

Rigid Heddle Warping Pegs - Set of 14 Warping Pegs for indirect warping on the Rigid Heddle Loom


Weaving Starter Kit

Start your creative weaving journey here! Fun and so easy to do. This kit contains everything you need to create your first wall hanging! A perfect gift for anyone wanting to try weaving!


Wooden Threading Hook-Ashford

Wooden Threading Hook Lacquered