a-MAIZING Sock (kit) UP North Yarns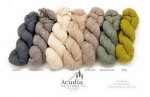 Acadia - The Fibre Co

Acadia is a rustic blend of silk noil, baby alpaca & fine merino wool. This versatile yarn is ideal for creating a handmade wardrobe that can be worn almost all year round. Most shades have a heathered appearance.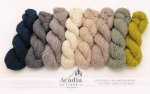 Acadia Mini Hanks-The Fibre Co

The heathered appearance of this DK weight yarn is achieved from a kettle dyeing process that creates the subtle duotones for which The Fibre Co. has become known.


Alegria - Manos del Uruguay

Sock yarn from Manos! Alegria is an easy-care blend of ultra-soft superwash merino with durable polyamide. Its "hand" is remarkably soft and resilient, making for lovely baby projects as well as socks.


Alegria Grande Bocados - Manos del Uruguay

Alegria Grande Bocados, Spanish for little bites, are just right for projects that need a bit of color, or a small amount of many colors.


Alma - Manos del Uruguay

This versatile fingering-weight single-ply yarn is a soft and supple choice for shawls, sweaters, and accessories. It's got a great balance between lightness, body, and drape, and it also hits the sweet spot for lace work.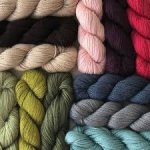 Alpaca Silk - Blue Sky Fibers

A satiny two-ply blend of silk and alpaca. This yarn provides a polished sheen and elegant drape. Offered in a brilliant array of colors. Perfect for scarves and wraps.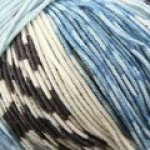 Ambiente - Schoppel

Ambiente is a super soft sport weight yarn that will make wonderful socks, accessories, and even baby projects. The colors in the ball coordinate beautifully and the print adds a touch of interest.


Amble 25 g mini - The Fibre Co

Amble is a fingering-weight yarn made from a blend of eco-friendly washable wool and alpaca for comfort as well as recycled nylon for strength.


Amble- The Fibre Co

Amble is a fingering weight yarn made from a blend of eco-friendly washable wool and alpaca for comfort as well as recycled nylon for strength. Although designed for sock knitting, this soft and durable yarn is also great for accessories.


Andorra - Kelbourne Woolens

Andorra is a classic, strong, versatile 2-ply merino wool, highland wool, and mohair blend yarn from Kelbourne Woolens. Designed with a vintage feel in a gorgeous color palette, Andorra is perfect for garments and accessories alike.


Arranmore Light - The Fibre Co.

A beautiful tweed yarn that blends cashmere, silk, & merino, knits to DK gauge. Inspired by the breathtaking scenery of Northern Ireland, yarn is spun in a mill that traces its roots to the homespun tweed industry of 19th century County Donegal.


Arroyo - Malabrigo

A soft and sturdy plied sport-weight, Arroyo has quickly become a favorite among knitters! It's perfect for those everyday lightweight (but warm) garments, and the superwash wool means it's easy to take care of.


Aspen - Baah

Baah Aspen is a soft, beautiful, sport weight artisan yarn, hand-painted with care in southern California. Rich colors and bold combinations create a line of yarn you will keep coming back to.


Atria Bulky- Supernova Dyeworks

Named after celestial bodies, these luxury yarns and fibers will bring some color and some sparkle to your stash. This super bulky yarn comes in a large skein with a bit of extra yardage!


Atria DK -Supernova Dyeworks

This is a puffy single ply yarn that works well knit at a tight or loose gauge.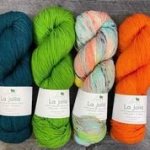 Baah Four Pack Kits

These carefully chosen color combinations are perfect for a variety of projects from shawls to sweaters


Baby Alpaca - Blue Sky Fibers

A classic two-ply twist and springy softness with an excellent stitch definition. Create stunning sweaters and accessories with this incredible yarn. Your finished project will drape beautifully and keep you toasty without being heavy.


Big Wool - Rowan

Big Wool takes the knitability of a super chunky and transforms it with pure Merino wool, raising the bar by which all other 'beginner' yarns are measured. Big Wool is not just for new knitters though. With a super light spin and paintbox colour palette,


Biscotte Sock Yarn

It's a real pleasure to knit socks with this hand-dyed yarn. Bis-Sock yarn is so soft that you can use it to knit everything! Perfect hand-dyed yarn for every yarn addict! Available in semi-solid, speckled and self-striping sock yarn.


Brushed Suri - Blue Sky Fibers

The airy halo of this yarn creates a soft and irresistible look in sweaters, scarves and wraps. Knits up beautifully on a wide range of needle sizes from simple garters to open work lace.


Bulky - Blue Sky Fibers

A single-ply bulky weight blend of soft alpaca and springy wool results in a chunky yarn that's a quick knit for warm and cozy projects.


Cabrito - Manos del Uruguay

A gorgeous kid mohair yarn, soft & light as a cloud. Hand dyed in beautiful colors, with a soft halo & a delicate glow. Knit it by itself for a super light & textured fabric or use with your favorite yarns to add texture & color depth to your knits.


Canopy Fingering - The Fibre Co.

A light worsted weight 3-ply strong, soft, shiny and drapey yarn. perfect for color work, lace or textured stitch patterns. This blend of fibers creates a knitted fabric with a soothing drape that is both soft and strong.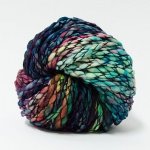 Caracol - Malabrigo

A bulky thick-and-thin yarn made of delightfully soft superwash merino wool, crisscrossed with a binder thread (either black or white.) Knits up into a cozy, fluffy fabric with a ton of texture & visual interest. Simple stitch patterns really let it sing!


Cardo- Semi Solids Manos Del Uruguay

Cardo is a plump, round bulky weight yarn spun from 100% Corriedale wool. The round, tight twist of Cardo is ideal for warm garments & accessories. Textured stitch patterns & cables look divine in this yarn & really stand out.


Cascade 220

A perfect combination of affordability, quality, versatility, loft, durability, & fabulous stitch definition. Works up beautifully in cables, lace, colorwork, simple stitch patterns. Ideal for heirloom quality garments, accessories & felted projects.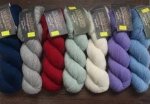 Cascade 220 Fingering

Extra yardage into this one, so you get 273 yards of 100% pure wool. Start thinking multi-colored mittens, glorious gloves and psychedelic shawls, as this wonderfully versatile and brilliant bright wool works up a treat.


Cascade 220 Superwash Merino

220 Superwash Merino is similar in gauge and yardage to classic 220 Superwash but with the softness of merino. Use this easy care versatile yarn is great for kids' clothes, washable blankets, sweaters, accessories and anything else you can imagine.


Cascade 220 Superwash Wool

We are sure you will love this light worsted/DK superwash wool. It is a natural fiber that is easy-care meaning you can machine wash and dry it! From accessories and kids items to blankets and quick knits, this is the perfect yarn!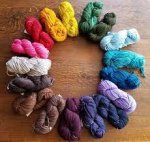 Chunky-Malabrigo

Soft & smooshy Malabrigo Chunky knits up quickly into cozy sweaters, & cold weather accessories. This yarn has nice stitch definition for cables, textured stitch patterns & simple stockinette. The signature, kettle-dyed color palette is sure to inspire.


Cirro- The Fibre Co
Comfy Cotton - Emma's Yarn

Perfect for warm weather knitting. 50% cotton is breathable, wicks away moisture, and is comfortable on the skin while 50% wool helps your garment maintain its shape over time


Crescent Shawl Kit - Baah

The Crescent Shawl pattern uses 7 mini skeins of Baah La Jolla fingering weight. Each mini skein is approximately 130 yards, for a total of 910 yards. The pattern is made of a series of garter section and garter stripes made by alternating 2 colors.


Cumbria - The Fibre Co.

Cumbria is a classic worsted weight yarn in saturated colors inspired by the lakes and hills of the UK. In combining the brown wool from English Masham sheep with a fine mohair from Argentina, a strength, luster and warmth is produced.


Cumbria Fingering

This fingering-weight yarn is made from fine Merino for softness, wool from the English Masham sheep for a beautiful heathered color & Argentinian mohair for strength and luster. Fabrics are soft yet strong, making it a perfect yarn for everyday knitwear.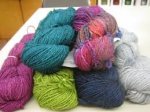 Dos Tierras - Malabrigo

A DK weight yarn that is as versatile as it is beautiful. Ultra soft with good stitch definition & drape, this 4-ply yarn was kettle-dyed and gives the perfect palette to help show off your stitch work.


Drapey DK- Emma's yarn
Eco Alpaca and Wool - Baah

This natural colored fiber has a blend of 50% baby alpaca and 50% highland wool. Sport weight. Perfect for making sweaters, and shawls.



Out of Stock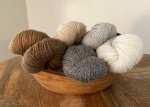 Eco Baby Alpaca - Baah

Sport Weight, 3 ply, 100% Baby Alpaca – Natural Fiber Color