American Scenic-Blue Sky Fibers
Brio- Vijay Fibers
Out of Stock
Brushed Suri - Blue Sky Fibers
Cardo- Semi Solids

Cardo is a fundamental yarn: its smooth texture, traditional spin, and resilient hand all hark back to beloved heirloom projects. Cardo gives pristine stitch definition to warm knits that work up quickly. 100% Corriedale wool


Drapey DK- Emma's yarn
Eco Alpaca and Wool - Baah

This natural colored fiber has a blend of 50% baby alpaca and 50% highland wool. Sport weight. Perfect for making sweaters, and shawls.


Mecha- Blue Sky Fibers
Mo'Slub
Practically Perfect Halves -Emmas Yarn
Rios Solidos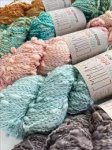 Slubby Slub-Emma's Yarn

Emma's Yarn newest fingering base yarn. Great for all your art yarn projects!


Woolstok Light - Blue Sky Fibers

Made from 100% Fine Highland Wool, soft and lofty with beautiful stitch definition. Available in an array of colors, this single ply takes on a new richness. The 50g hanks are great for colorwork, cables and textured stitches.