Crescent Shawl Kit-Baah

The Crescent Shawl pattern uses 7 mini skeins of Baah La Jolla, fingering weight. Each mini skein is approximately 130 yards, for a total of 910 yards. The pattern is made of a series of garter section and garter stripes made by alternating 2 colors at a



Out of Stock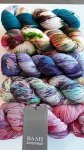 Savannah - Baah

Baah Yarn Savannah is made from 10% cashmere, 10% nylon, and 80% superwash merino wool. For best care, handwash with cold water.