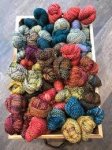 Emma's Practically Perfect Sock

You guessed it, this 2 ply yarn makes a practically perfect pair of socks! This yarn is machine washable and has the perfect amount of stretch for a crazy comfortable pair of socks. Each 100g skein has 400 yards of gorgeous color, 80% Superwash Merino 2


Hella Hank - Emma's Yarn

A really big and super soft hank of fingering weight yarn, perfect for a shirt, wrap, or anything requiring a lot of yardage. AND, less ends to weave in!


Marvelous Mohair-Emma's Yarn

Emma?s Yarn Marvelous Mohair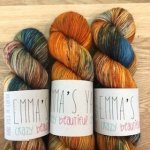 Simply Spectacular DK - Emma's Yarn

Simply Spectacular DK is a gorgeous 4-ply DK yarn that is made up of 75% Superwash Merino and 25% Nylon. It is so soft to touch and has just the right bit of give making it perfect for garments, blankets, and accessories. We love how gorgeous the colors l


Super Silky- Emma's Yarn

Made from 80% Superwash Merino Wool and 20% Silk, this yarn has a gorgeous drape and elegant sheen that looks and feels so soft! Seriously, you will want an extra skein just to pet and cuddle! One 2-ply skein is 100g and 400 yards making it the perfect y