Atria Bulky- Supernova Dyeworks

Named after celestial bodies, these luxury yarns and fibers will bring some color and some sparkle to your stash. This super bulky yarn comes in a large skein with a bit of extra yardage!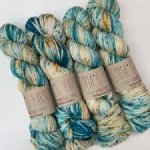 Bodacious Bulky

3 plies gives this yarn a gorgeous twist and fabulous feel. Your favorite bulky hats, sweaters, and scarves will knit up quickly and beautifully in this base.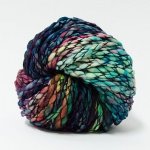 Caracol - Malabrigo

A bulky thick-and-thin yarn made of delightfully soft superwash merino wool, crisscrossed with a binder thread (either black or white.) Knits up into a cozy, fluffy fabric with a ton of texture & visual interest. Simple stitch patterns really let it sing!


Cardo- Semi Solids Manos Del Uruguay

Cardo is a plump, round bulky weight yarn spun from 100% Corriedale wool. The round, tight twist of Cardo is ideal for warm garments & accessories. Textured stitch patterns & cables look divine in this yarn & really stand out.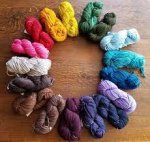 Chunky-Malabrigo

Soft & smooshy Malabrigo Chunky knits up quickly into cozy sweaters, & cold weather accessories. This yarn has nice stitch definition for cables, textured stitch patterns & simple stockinette. The signature, kettle-dyed color palette is sure to inspire.


Franca - Manos Del Uruguay

Knit up a beautiful project in record time with Franca. Great for cozy cowls and funky, cool accessories. Franca is a special brand of hand spun & dyed artisan yarns that supports rural Uruguayan women.



Out of Stock
Galatea-Uneek

Featuring a striking selection of carefully curated colorways, this 3-ply, 100% cotton yarn comes to life as you knit. With its unparalleled softness and fluffiness.



Out of Stock
Mecha- Malabrigo

Our superwash merino takes color in the most vivid, way, and nowhere is that more apparent than in the multi-layered hues of Mecha! With a slight thick-and-thin texture, and a fantastic loft, it's the perfect size for quick but not-too-heavy projects.


Nevis Cowl - BSF

A great advanced beginner project using both seed stitch and garter, this cowl is a quick knit on bigger needles.


Rasta - Malabrigo

Whip out a super-cozy accessory in just hours with this super-sized slightly-fulled delightful yarn. Uruguayan merino is just as soft as ever. Knit it up on a 13-15 needle & everyone will know just how fabulously talented a knitter or crocheter you are!


Sprout-Classic Elite
Out of Stock
UP North Bulky
UP North Yarns- Chunky
Wool Classica

Wool Clasica is a sturdy yarn hand-spun from the fleece of Corriedale sheep that pasture in Uruguay. This single-ply, heritage yarn gives knit garments, accessories & home decor a casual, rustic luxe appearance.


Woolstok North

Squishy, sturdy, and lofty, this single-ply, super bulky weight yarn is soft and light. Made from 100% Fine Highland Wool, Woolstok North's palette consists of twelve rich colors that play wonderfully together.


Sequoia - Baah

This is a single ply super bulky yarn you didn't know you needed. Amazingly soft yarn is beautifully hand dyed in vibrant colors that will have your accessories popping with style.


Tundra - The Fibre Co.

Tundra is a 2 ply bulky yarn created from baby alpaca, merino & silk. A pleasing, rounded appearance results in a plump hank with loft & a great hand. Accessories & garments knitted with Tundra enjoy a weightless warmth, sheen, drape and a slight halo.