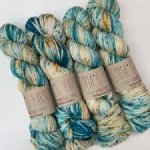 Bodacious Bulky

3 plies gives this yarn a gorgeous twist and fabulous feel. Your favorite bulky hats, sweaters, and scarves will knit up quickly and beautifully in this base.


Brushed Fleece

Brushed Fleece from Rowan is a soft and fluffy blend of extra fine merino and baby alpaca, with just a touch of polyamide.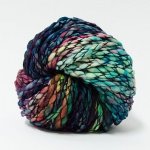 Caracol - Malabrigo

A bulky thick-and-thin yarn made of delightfully soft superwash merino wool, crisscrossed with a binder thread (either black or white.) Knits up into a cozy, fluffy fabric with a ton of texture & visual interest. Simple stitch patterns really let it sing!



Out of Stock
Cardo- Semi Solids

Cardo is a fundamental yarn: its smooth texture, traditional spin, and resilient hand all hark back to beloved heirloom projects. Cardo gives pristine stitch definition to warm knits that work up quickly. 100% Corriedale wool


Cascade Baby Alpaca Chunky

Baby Alpaca Chunky is great for snuggly, one-skein scarves or make a cozy throw blanket. Baby Alpaca Chunky knits up at a bulky weight so your projects will be done quickly.


Eco + Merino - Cascade

Made in extra-generous skeins of Bolivian merino wool makes it perfect when you need extra softness for next to skin wear like hats, scarves, cowls or mitts. But with its ample amount of yards it is perfect for cardigans, pullovers and blankets, too.



Out of Stock
Franca - Manos Del Uruguay

Knit up a beautiful project in record time with Franca. Great for cozy cowls and funky, cool accessories. Franca is a special brand of hand spun & dyed artisan yarns that supports rural Uruguayan women.



Out of Stock
Galatea-Uneek

Featuring a striking selection of carefully curated colorways, this 3-ply, 100% cotton yarn comes to life as you knit. With its unparalleled softness and fluffiness.


Mecha- Blue Sky Fibers
Nevis Cowl - BSF

A great advanced beginner project using both seed stitch and garter, this cowl is a quick knit on bigger needles.


Rasta - Malabrigo

Whip out a super-cozy accessory in just hours with this super-sized slightly-fulled delightful yarn. Uruguayan merino is just as soft as ever. Knit it up on a 13-15 needle & everyone will know just how fabulously talented a knitter or crocheter you are!


Take Care Mohair - Wool and the Gang

This yarn knits up quickly and is super soft! Great for layering pieces: sweaters, cardigans, hats and scarves. One ball can make a hat or a cowl. These 50g balls are twice the weight of most mohair on the market.


Bulky - Blue Sky Fibers

A single-ply bulky weight blend of soft alpaca and springy wool results in a chunky yarn that's a quick knit for warm and cozy projects.


Chunky - Malabrigo

Classic Malabrigo, this bulky yarn is a squishy treat. Chunky's nice smooth texture & semi-solid colors make it perfect for bulky cables & bold textures. Hand-dyed, squishy goodness - perfect for extra warm garments, accessories & last minute gifts.



Out of Stock
Eco Wool - Cascade

Ecological Wool is 100% Natural Peruvian Wool that's undyed so the colors are just as they come from the sheep. Soft and wearable, this wool is perfect to either knit up some warm and cozy garments or for felting accessories.



Out of Stock
Eco+ - Cascade

Eco+ is 100% natural Peruvian wool and is the colorful version of the popular Eco Wool. Soft and wearable, this wool lends itself to either garments or felting. Eco+ comes in big generous skeins, so it's perfect for cardigans, pullovers and blankets.



Out of Stock
Merino Ribbon - Mountain Colors

An incredibly soft, yet light weight ribbon/tape yarn. Knit stitches are clear and distinct.


Outer - Spud & Chloe

Outer - Spud & Chloe


Sequoia - Baah

This is a single ply super bulky yarn you didn't know you needed. Amazingly soft yarn is beautifully hand dyed in vibrant colors that will have your accessories popping with style.


Tundra - The Fibre Co.

Tundra is a 2 ply bulky yarn created from baby alpaca, merino & silk. A pleasing, rounded appearance results in a plump hank with loft & a great hand. Accessories & garments knitted with Tundra enjoy a weightless warmth, sheen, drape and a slight halo.


Woolstok Jumbo - Blue Sky Fibers

Woolstok Jumbo is soft and sturdy with a unique braided construction. Ideal for home décor and one hour projects.