Andorra- Kelbourne Woolens

Kelbourne Woolens Andorra is a classic, strong, versatile 2-ply merino wool, highland wool, and mohair blend yarn from Kelbourne Woolens. Designed with a vintage feel in a gorgeous color palette, Andorra is perfect for garments and accessories alike. 60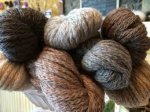 Chalet - Classic Elite

Chainette yarns are well-deserving of their popularity...the construction simultaneously provides strength and lightness. Add a luxury fiber blend of baby alpaca and bamboo to that inherent lightness and you have Chalet, a decadently soft yarn with a love


Sonoma - Baah Yarn

One of the most versatile yarns, Sonoma is a DK weight yarn made of 100% superwash merino wool. Use Baah Yarn Sonoma for cardigans, sweaters, scarves, shawls, and more. Each batch of Baah Sonoma yarn is hand-created individually, so no two skeins will app


Summerlite DK -Rowan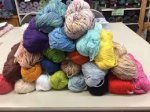 Verano - Malabrigo

When deciding to add a new plant-based yarn to our offerings 100% Pima Cotton was the obvious choice. Its softness, strength, and shine are perfect for both warmer weather and those in between times where you just need a little something.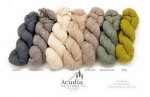 Acadia - The Fibre Co

Acadia is a rustic blend of silk noil, baby alpaca and fine merino wool and is one of the most versatile yarns in The Fibre Co. collection. Ideal for creating a handmade wardrobe that can be worn almost all year round, Acadia comes in a range of colours,.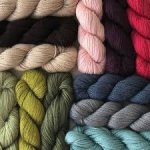 Alpaca Silk - Blue Sky Fibers

A Satiny two-ply blend of silk and alpaca. This yarn provides a polished sheen and elegant drape. Offered in a brilliant array of colors. Perfect for scarves and wraps.


Arranmore Light - Fibre Co.

Inspired by the breathtaking scenery of Ireland?s Northern Headlands, Arranmore Light yarn is spun in a mill that traces its roots to the homespun tweed industry of 19th century County Donegal. Arranmore Light blends cashmere and silk with a fine merino


Baby Merino Silk DK- Rowan

A super-soft blend of Merino wool and Tussah silk gives this yarn such a gentle touch, perfectly suited to projects for babies and children. Baby Merino Silk DK is machine washable too, so there's no need to sacrifice practicality for luxury. With a p


Billie Jean - Wool And The Gang

Billie Jean Yarn has been made from pre-consumer denim remnants from production at denim mills. Billie Jean Yarn was developed in collaboration with The New Denim Project, a project within a 3rd generation family textile factory, promoting conscious cons



Out of Stock
Co Ba Si DK - HiKoo

Co Ba Si DK - HiKoo


Denim Revive

There is something so special about denim yarn, and Denim Revive has an added dimension, thanks to its sustainable credentials. Made from recycled cotton fibres that give Denim Revive an almost tweedy effect, the capsule colour palette of muted shades con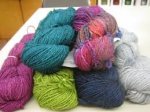 Dos Tierras - Malabrigo

Dos Tierras means Two Lands, reflecting the sources of the two amazing fibers found in this ultra-soft yarn. By spinning together 50% of our fine Uruguayan Merino wool with 50% baby alpaca from Peru we have created a DK weight yarn that is as versatile as


Eco-Cashmere - Blue Sky Fibers

This DK-weight luxury yarn is an Earth-friendly mix of recycled and virgin cashmere. Soft with a lofty spin it?s ideal for everything from color-work to cables.


Escape - Classic Elite

Escape combines fine merino (20 microns), mulberry silk and yak in a single ply of pure luxury. The six sophisticated shades of this dk weight have a slight heathered look from the darker undyed yak fibers. With incredible softness and good stitch def


Feliz - Manos del Uruguay

Feliz is a gorgeous yarn blended of classic merino superwash, as well as modal, a man-made fiber made from vegetable pulp! Modal adds a great draping effect to the yarn, as well as giving it a unique, soft handfeel! What's even better? Feliz is offered in


Felted Tweed - Rowan

Ask any Rowan fan for their favourite yarn and there's a good chance it'll be Felted Tweed. Spun in a light DK weight, with a beautiful tweed effect and an amazing 40 colours to choose from, it's a Fair Isle knitter's dream. But that's not all. The magica


Fixation

This stretchy yarn is fun to knit and works great with swimsuits or other stretchy garments where stretch is required. Fixation yarn is made from Cotton and Elastic so it is great for folks who have allergies to wool or find wool to be scratchy. Fixation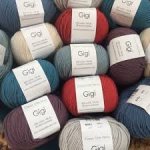 Gigi - Classic Elite

This dk to light worsted weight combines cotton with a bit of silk to make this summer yarn a joy to knit. The nine plies create a round yarn with excellent stitch definition and the resulting knit fabric has bounce and spring, and a squishable hand.


Lore - Fiber Co

Lore- Fiber Co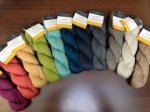 Luma

A classic DK weight yarn, Luma is inspired by the mood and light found in mid-latitude savannas?those grassland ecosystems with open canopies allowing plenty of sunlight. Daily life in mid-latitude climates, whether in the drier Mediterranean or temperate


Metalico - Blue Sky Fibers

A lush single-ply blend of baby alpaca and silk. Presented in shiny braids with naturally occurring colors of alpaca. Luxury, as nature intended.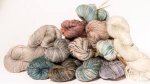 Milo - Manos del Uruguay

Milo blends merino wool with fine linen for a yarn that is simultaneously rustic and elegant. The linen retains its natural color through the dye process, giving a heathered effect. It also lightens the yarn and gives the knitted fabric excellent drape.


Provence - Classic Elite

Provence, one of our signature yarns, is a mercerized Egyptian cotton that knits into a strong and beautiful fabric. Egyptian cotton has two qualities that make it a great cotton yarn: a very long staple (fiber) length and a small diameter. The long stapl


Silk Blend Semi Solid - Manos del Uruguay

Soft and shiny, Silk Blend gives good stitch definition to cables and other texture patterns. Its jewel-like colors work beautifully in stranded colorwork designs.


Silk Blend Varigated - Manos del Uruguay

Manos del Uruguay Silk Blend Semi Solid 21 ReviewsWrite a Review $15.50 Hank WEBS Discount Add to Bag Select item(s) below before adding to bag. Add to Wishlist Manos Silk Blend Semi Solid is a gorgeous combination of 30% silk and 70% extrafi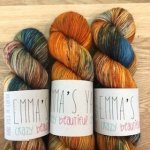 Simply Spectacular DK - Emma's Yarn

Simply Spectacular DK is a gorgeous 4-ply DK yarn that is made up of 75% Superwash Merino and 25% Nylon. It is so soft to touch and has just the right bit of give making it perfect for garments, blankets, and accessories. We love how gorgeous the colors l


Soft Linen - Classic Elite

Soft Linen is the perfect yarn for warmer days and soft, cool nights. The alpaca makes a beautiful halo, the linen gives it a crisp and firm hand and the wool provides stability and its own level of softness. This year-round yarn works equally well for l


Softyak DK - Rowan

Softyak DK transcends the seasons thanks to its blend of cotton, yak and nylon. It has a stunningly soft handle and is static resistant and anti-microbial, which means the fabric stays fresher for longer. The chainette construction makes it surprisingly l


Song - Classic Elite

Cotton and wool combine in this luxurious dk weight yarn giving excellent stitch definition in a sophisticated palette. Perfect for year round wear, babies to adults, in cables, lace, colorwork or plain stockinette. Song does it all beautifully!


Susurro - Malabrigo

This breezy yarn is soft and light, making it the ultimate summer yarn. Susurro is 50% Mulberry silk, 25% Merino, and 25% Linen wound as a single ply into a DK/Sport weight. The fusion of these 3 very different fibers results in an amazing depth of co


Synchrony - Brown Sheep

Synchrony is a brand-new twist on Brown Sheep yarns, in a multicolored blend of 60% cotton and 40% wool. We can see this blend used for accessories like shawls and wraps, mitten and hats. A kid?s cardi would be playfully fun in this yarn.


Traveller - Dragonfly

Traveller is a fantastically soft, hand-dyed yarn from Dragonfly Fibers. This DK weight plied yarn will work up into sweaters with next-to-skin softness and accessories that you'll love to show off. Traveller is machine-washable making it ideal for family


Ultra Pima - Cascade

Ultra Pima is super-soft pima cotton and great for all seasons! Ultra Pima is a DK weight knitting yarn so it's very versatile to design anything from a sweater to baby garments! Ultra Pima is much softer than other cotton yarns and does not feel stiff. B


Ultra Pima Paints - Cascade

Ultra Pima is the hand-painted version of our super-soft pima cotton and great for all seasons! Ultra Pima is a DK weight knitting yarn so it's very versatile to design anything from a sweater to baby garments! Ultra Pima is much softer than other cotton


Vivacious DK - Fyberspates

Vivacious DK - Fyberspates