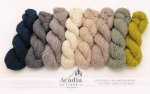 Acadia Mini Hanks-The Fibre Co

The heathered appearance of this DK weight yarn is achieved from a kettle dyeing process that creates the subtle duotones for which The Fibre Co. has become known.


Alpaca Heather 100g

Alpaca Heather 100g by Manos del Uruguay is naturally dyed and soft to the touch. This yarn makes a great main color for color-work sweaters paired with the colorful 50g hanks! Alpaca Heather makes a perfect choice for shawls and hats!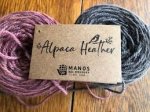 Alpaca Heather 50g

When 3 undyed colors ( put up in 100g hanks) are then overdyed with Manos's kettle-dyed semi-solid colors, the results are 13 rich, semi-solid subtle tones (put up in 50g hanks).


Andorra - Kelbourne Woolens

Andorra is a classic, strong, versatile 2-ply merino wool, highland wool, and mohair blend yarn from Kelbourne Woolens. Designed with a vintage feel in a gorgeous color palette, Andorra is perfect for garments and accessories alike.


Atria DK -Supernova Dyeworks

This is a puffy single ply yarn that works well knit at a tight or loose gauge.


Comfy Cotton - Emma's Yarn

Perfect for warm weather knitting. 50% cotton is breathable, wicks away moisture, and is comfortable on the skin while 50% wool helps your garment maintain its shape over time


Drapey DK- Emma's yarn
Eco Alpaca and Wool - Baah

This natural colored fiber has a blend of 50% baby alpaca and 50% highland wool. Sport weight. Perfect for making sweaters, and shawls.



Out of Stock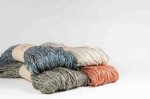 Linen- Dan Doh Designs

100% Pure Linen yarn from Japan. Clean, crisp linen fiber is spun into a unique chain ply structure, that knits up into light and airy fabric with dramatic drape. Nice soft handle.


Luma Mini Skeins

A lofty blend of organic cotton, linen, Merino wool and silk.


Scout - Kelbourne Woolens

A classic, strong, versatile, heathered 100% wool yarn. It is unfussy, beautiful, and high-quality, fantastic for textured stitches, cable work and colorwork.


Seduction DK- Why Knot Fibers
Serene-Why Knot Fibers
Silk + Dan Doh Designs

A unique combination of Silk with little bits of color and silky cotton. "Silk +" is soft, light, and very comfortable to knit and wear. Silk + wears like a dream and has marvelous drape.


Simply Spectacular DK-Emma's Yarn
Slack-Why Knot Fibers

This yarn will quickly become a favorite! A lucsious blend of Merino, silk and Yak in rich colors with a generous sized skein. Garments will have just that extra something special!


Sonoma - Baah Yarn

One of the most versatile yarns, Sonoma can be used for cardigans, sweaters, scarves, shawls, and more. Each batch of Sonoma is hand-created individually, so no two skeins will appear exactly alike.


Summerlite DK - Rowan

The finest cotton results in a beautifully soft, matte yarn, which boasts a wonderful, summery tonal color palette. This yarn is a perfect choice for spring and summer designs such as a pretty shrug or evening time cardigan.


Uneek Cotton DK

SHORT WAVES OF SELF-STRIPING MAGIC Urth Yarns plants a tree in Africa for each skein purchased.


Uneek Monokrom Cotton- Urth

Monokrom Collection is perfect for letting single colors stand out or to pair with our self-striping Uneek Collection.


UP North Superwash Merino DK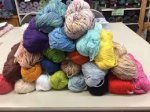 Verano - Malabrigo

Verano's softness, strength, & shine are perfect for both warmer weather & those in between times when you just need a little something. Pima cotton is renowned for its softness & strength & has a subtle sheen that adds an additional interest to projects.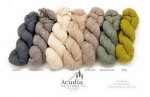 Acadia - The Fibre Co

Acadia is a rustic blend of silk noil, baby alpaca & fine merino wool. This versatile yarn is ideal for creating a handmade wardrobe that can be worn almost all year round. Most shades have a heathered appearance.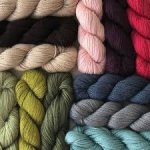 Alpaca Silk - Blue Sky Fibers

A satiny two-ply blend of silk and alpaca. This yarn provides a polished sheen and elegant drape. Offered in a brilliant array of colors. Perfect for scarves and wraps.


Arranmore Light - The Fibre Co.

A beautiful tweed yarn that blends cashmere, silk, & merino, knits to DK gauge. Inspired by the breathtaking scenery of Northern Ireland, yarn is spun in a mill that traces its roots to the homespun tweed industry of 19th century County Donegal.


Denim Revive

A fresh, eco-friendly take on cotton yarn, Denim Revive has a wonderful heathered/tweedy look that captures the feel of recycled denim while providing you with lightweight breathability. Think warm-weather tops or cool lightweight shawls.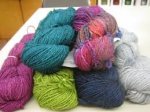 Dos Tierras - Malabrigo

A DK weight yarn that is as versatile as it is beautiful. Ultra soft with good stitch definition & drape, this 4-ply yarn was kettle-dyed and gives the perfect palette to help show off your stitch work.


Feliz - Manos del Uruguay

This is a very special merino yarn. Modal, an ecological fiber derived from eucalyptus, gives it a very particular touch, less woolly, with lots of luster & suitable for all seasons. The resulting fabric has great drape & stitch definition.


Felted Tweed - Rowan

A favorite of Rowan fans, Felted Tweed is a light DK weight with a beautiful tweed effect and is a Fair Isle knitter's dream. A gorgeous option for lacework, or knit in garter stitch for a drapey, squishable fabric that is cozy, but light & easy to wear.


Lore - The Fibre Co.

Lore is 100% lambswool from the Romney sheep, locally known as Kent lamb. It is an honest woollen-spun DK weight yarn that blooms beautifully after washing, making it a perfect yarn for colourwork.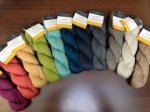 Luma - The Fibre Co.

A classic DK weight yarn, Luma's organic cotton and linen are mixed with silk and fine Merino wool to provide a built-in layer of warmth in winter yet lightness in cooler climates. Perfect for favorite wardrobe layering pieces.


Metalico - Blue Sky Fibers

A lush single-ply blend of baby alpaca & silk presented in shiny braids of naturally occurring alpaca colors & 6 dyed colors. This gorgeous yarn will make lovely lace projects with nice drape or a more substantial fabric for light warm sweaters and hats.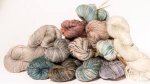 Milo - Manos del Uruguay

Milo blends merino wool with fine linen for a yarn that is simultaneously rustic and elegant. The linen retains its natural color through the dye process, giving a heathered effect. It also lightens the yarn and gives the knitted fabric excellent drape.


Provence - Classic Elite

This is a mercerized Egyptian cotton that knits into a strong & beautiful fabric. Egyptian cotton has a long fiber length which gives this yarn strength & sheen making it perfect for babywear, warm weather garments, socks, shawls and accessories.


Softyak DK - Rowan

Softyak DK transcends the seasons thanks to its blend of cotton, yak & nylon. It has a stunningly soft handle & is static resistant & anti-microbial, which means the fabric stays fresher longer. Soft as cashmere with durability & washability.


Susurro - Malabrigo

A blend of silk, linen, & Merino wool is soft and light, making it perfect for summer. The silk gives this a subtle sheen, while linen provides textural interest. Lovely for knitting light weight garments, scarves/wraps, ponchos, & tees.


Synchrony - Brown Sheep

Synchrony is a brand-new twist on Brown Sheep yarns, in a multicolored blend of 60% cotton and 40% wool. We can see this blend used for accessories like shawls and wraps, mitten and hats. A kid?s cardi would be playfully fun in this yarn.



Out of Stock
Vivacious DK - Fyberspates

A robust high twist merino DK, this workhorse yarn creates a dense warm fabric and makes cables pop out for glorious texture. Great for garments and accessories that are comfortable, wearable and look good for action-packed days.



Out of Stock