Andorra- Kelbourne Woolens

Kelbourne Woolens Andorra is a classic, strong, versatile 2-ply merino wool, highland wool, and mohair blend yarn from Kelbourne Woolens. Designed with a vintage feel in a gorgeous color palette, Andorra is perfect for garments and accessories alike. 60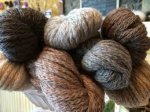 Chalet - Classic Elite

Chainette yarns are well-deserving of their popularity...the construction simultaneously provides strength and lightness. Add a luxury fiber blend of baby alpaca and bamboo to that inherent lightness and you have Chalet, a decadently soft yarn with a love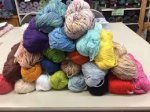 Verano - Malabrigo

When deciding to add a new plant-based yarn to our offerings 100% Pima Cotton was the obvious choice. Its softness, strength, and shine are perfect for both warmer weather and those in between times where you just need a little something. Plus, this new y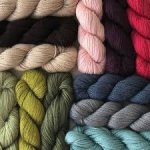 Alpaca Silk - Blue Sky Fibers

A Satiny two-ply blend of silk and alpaca. This yarn provides a polished sheen and elegant drape. Offered in a brilliant array of colors. Perfect for scarves and wraps.


Co Ba Si DK - HiKoo

Co Ba Si DK - HiKoo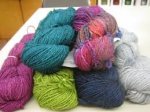 Dos Tierras - Malabrigo

Dos Tierras means Two Lands, reflecting the sources of the two amazing fibers found in this ultra-soft yarn. By spinning together 50% of our fine Uruguayan Merino wool with 50% baby alpaca from Peru we have created a DK weight yarn that is as versatile as


Eco-Cashmere - Blue Sky Fibers

This DK-weight luxury yarn is an Earth-friendly mix of recycled and virgin cashmere. Soft with a lofty spin it?s ideal for everything from color-work to cables.


Fixation

Fixation Fixation Spray-Dyed This stretchy yarn is fun to knit and works great with swimsuits or other stretchy garments where stretch is required. Fixation yarn is made from Cotton and Elastic so it is great for folks who have allergies to wool or fin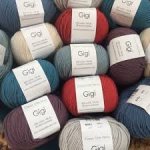 Gigi - Classic Elite

This dk to light worsted weight combines cotton with a bit of silk to make this summer yarn a joy to knit. The nine plies create a round yarn with excellent stitch definition and the resulting knit fabric has bounce and spring, and a squishable hand.


Metalico - Blue Sky Fibers

A lush single-ply blend of baby alpaca and silk. Presented in shiny braids with naturally occurring colors of alpaca. Luxury, as nature intended.


Susurro - Malabrigo

This breezy yarn is soft and light, making it the ultimate summer yarn. Susurro is 50% Mulberry silk, 25% Merino, and 25% Linen wound as a single ply into a DK/Sport weight. The fusion of these 3 very different fibers results in an amazing depth of co