Alegria - Manos del Uruguay

Sock yarn from Manos! Alegria is an easy-care blend of ultra-soft superwash merino with durable polyamide. Its "hand" is remarkably soft and resilient, making for lovely baby projects as well as socks.


Amble 25 g mini
Amble- The Fibre Co

Amble is a fingering weight yarn made from a blend of eco-friendly washable wool and alpaca for comfort as well as recycled nylon for strength. Although designed for sock knitting, this soft and durable yarn is also great for accessories.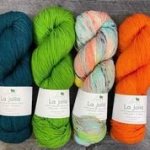 Baah Four Pack Kits

These carefully chosen color combinations are perfect for a variety of projects from shawls to sweaters


Birch Bark Canoe - Handmaiden

This crescent shawlette is knit using Flyss yarn, in the Peppercorn colorway. Knit in stockinette with a wave lace pattern at the end to emulate a birch bark canoe on the Canadian waters. One size but can be easily adjusted.


Biscotte Sock Yarn

It's a real pleasure to knit socks with this hand-dyed yarn. Bis-Sock yarn is so soft that you can use it to knit everything! Perfect hand-dyed yarn for every yarn addict! Available in semi-solid, speckled and self-striping sock yarn.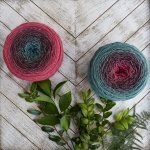 Blossoms

Center-pull gradient sock yarn: 4 oz., 425 yards; 80% superwash merino/20% nylon


Canopy Fingering - The Fibre Co.

A light worsted weight 3-ply strong, soft, shiny and drapey yarn. perfect for color work, lace or textured stitch patterns. This blend of fibers creates a knitted fabric with a soothing drape that is both soft and strong.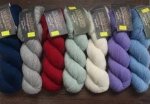 Cascade 220 Fingering

Extra yardage into this one, so you get 273 yards of 100% pure wool. Start thinking multi-colored mittens, glorious gloves and psychedelic shawls, as this wonderfully versatile and brilliant bright wool works up a treat.


Co Ba Si Fingering - Hikoo

A wool-free sock yarn. Knitters and the lucky people they knit for now have a wool-free sock yarn, something that won't irritate or overheat.


Hella Hank - Emma's Yarn

A really big and super soft hank of fingering weight yarn, perfect for a shirt, wrap, or anything requiring a lot of yardage. AND, less ends to weave in!


Heritage Prints - Cascade

This self-patterning, super-soft yarn is a machine washable blend of superwash merino and nylon - a soft yet sturdy combination! Patterns and stripes emerge all on their own as you work.


Marvelous Mohair - Emma's Yarn

Soft, silky and definitely luxurious. Add a subtle halo to any project. Use tone-on-tone colors to add depth an dimension to a garment or pair contrasting colors. Looks great held with another strand or used on its own.


Mini Metamorph - Biscotte

Socks, shawls, mittens to baby knitwear, this nice yarn, as pleasant to touch as for the eyes, will make you want to share your knitting projects with your loved one.


New York - Baah

This yarn has a great hand and is extremely soft. The single ply has an extra twist to avoid piling. If you like vibrant colors colors you are in for a real treat.


Practically Perfect Smalls - Emma's Yarn

This is the perfect addition to any fingering weight project that is missing that pop of crazy beautiful color! We love it as a coordinating heal / toe on a practically perfect pair of socks.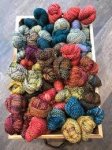 Practically Perfect Sock - Emma's Yarn

You guessed it, this 2 ply yarn makes a practically perfect pair of socks! This yarn is machine washable and has the perfect amount of stretch for a crazy comfortable pair of socks. Each 100g skein has 400 yards of gorgeous color.


Stripey Fine - Spud & Chloe (disc)

Spud & Chloe brand is known for making playful, yet sophisticated yarns that knit into adorable childrens garments & accessories. Stripey Fine is a soft blend of superwash wool & silk that comes in a palette of happy variegated colorways.


Super Silky - Emma's Yarn

This wool/silk yarn has a gorgeous drape and elegant sheen that looks and feels so soft! You will want an extra skein just to pet and cuddle! One 2-ply skein makes it the perfect yarn for a fine gauge wrap, shawl or sweater. Each skein hand-dyed by Emma.


Uneek Sock Kit

Uneek Sock Kit comes with 2 pre-wound cakes for matching, self-striping socks. Do you still like mismatched socks? Mismatching is more enjoyable when done intentionally.


UP North Yarns- Fingering
Woolstok Light - Blue Sky Fibers
Zauber Perlen
Out of Stock
Cabrito - Manos del Uruguay

A gorgeous kid mohair yarn, soft & light as a cloud. Hand dyed in beautiful colors, with a soft halo & a delicate glow. Knit it by itself for a super light & textured fabric or use with your favorite yarns to add texture & color depth to your knits.


Dragon Sock - Dragonfly

Each skein of sock yarn is hand-dyed in vibrant colors. Perfect for socks, mitts, scarves, and, of course, baby knitting. Very soft and springy with a nice, tight twist.



Out of Stock
Fine - Spud & Chloe

Machine washable with a high two-ply twist, Fine is soft, elastic and strong, the perfect yarn for those that love small needle projects .Ideal for Fair Isle and detailed work, and, of course, some pretty fancy footwork!


Fino - Manos del Uruguay

Elegant and refined, Fino combines the softness of merino wool with the luster of silk in a lightweight yarn that's perfect for heirloom accessories or luxurious garments. Fino features a new dye process that yields complex, subtle, tonal colors.


Fino Mini Skeins - Manos del Uruguay

Elegant and refined, Fino combines the softness of merino wool with the luster of silk in a lightweight yarn that's perfect for heirloom accessories or luxurious garments. Fino features a new dye process that yields complex, subtle, tonal colors.


Harvest Fingering - Urth

Harvest is hand dyed with roots, fruits and nuts. The result is a squishy merino collection of earthy colors. Colors are sometimes subject to subtle variation as each harvest is different.


Kidsilk Haze - Rowan

Kidsilk Haze combines the soft halo of super kid mohair with the vibrant shine of silk in an incredible yarn that is loved by knitters. Can be used with a variety of needle sizes to create different effects & styles, & is a favorite of lace fans.


Knit One Crochet Two - Winter Blossom

Winter Blossom is a gorgeous blend of organic Extra Fine Merino Wool, Mohair and Silk in a fingering weight yarn. This delicate yarn creates the most gorgeous mohair halo to your finished project. Perfect for all those mohair stranded projects.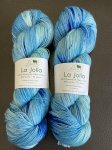 La Jolla - Baah

Baah's most popular and sought-after product. Hand painted in small batches in southern California using only high quality yarn and professional grade dyes.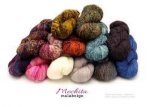 Mechita - Malabrigo

Mechita is fingering-weight, beautifully-dyed single-ply, superwash. Soft & rich, but great for lighter projects like shawls, scarves, garments/accessories, baby/kids items, lace, cables, textured stitches. Soft, versatile, great stitch definition.



Out of Stock
Perennial - Kelbourne Woolens

Perennial is a highly functional, versatile yarn that serves a variety of needs for knitters/crocheters. Color palette of neutrals, blues, & a few pops of color really shines in this easy care yarn perfect for shawls, garments, socks, and baby/kid knits.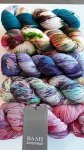 Savannah - Baah

Relax & knit the evening away with Savannah, a hand-dyed beauty from California. The blend of merino, super-soft cashmere & nylon delivers great stitch definition & comes in a lively palette.


Uneek Fingering - Urth

Short waves of self-striping magic start unraveling as soon as you cast on. Vibrant and bold colorways, dyed by hand. Urth Yarns plants a tree in Africa for each skein purchased.


Uneek Monokrom Fingering

Monokrome offers an authentic tonal texture, created by shifts in color density. Ideal for single color projects or to use as a complimentary yarn with self-striping Uneek collection. Urth Yarns plants a tree in Africa for each skein purchased.


Zauberball Crazy - Schoppel

Each strand of this 2-ply yarn has been dyed individually, then twisted together for a zany color combination. The end result is a self-striping multi-colored pattern, with a bold variegated design! A sock yarn which is fine & soft, a delight to knit.