Alegria - Manos del Uruguay

Sock yarn from Manos! Alegria is an easy-care blend of ultra-soft superwash merino with durable polyamide. Its "hand" is remarkably soft and resilient, making for lovely baby projects as well as socks.


Biscotte Sock Yarn

It's a real pleasure to knit socks with this hand-dyed sock yarn. Bis-Sock yarn is so soft that you can use it to knit everything! Perfect hand-dyed yarn for every yarn addict! Available in semi-solid, speckled and self-striping sock yarn.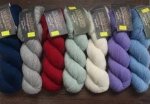 Cascade 220 Fingering

Cascade 220 Fingering is your favorite wool yarn in a fingering weight! We snuck some extra yardage into this one, so not only do you get 273 yards of 100% pure wool, but you also get our trademark color spectrum designed for color work, delicate knits in


Co Ba Si Fingering - HiKoo

Finally, a wool-free sock yarn! Knitters and the lucky people they knit for have long clamored for a wool-free sock yarn, something that wouldn?t irritate or overheat. Meet HiKoo CoBaSi?a cotton, bamboo and silk blend that also has a generous amount of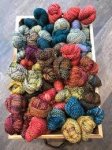 Emma's Practically Perfect Sock

You guessed it, this 2 ply yarn makes a practically perfect pair of socks! This yarn is machine washable and has the perfect amount of stretch for a crazy comfortable pair of socks. Each 100g skein has 400 yards of gorgeous color, 80% Superwash Merino 2


Fine - Spud & Chloe

Machine washable with a high two-ply twist. Thanks to its superwash wool and silk blend, Fine is soft, elastic and strong. The perfect yarn for those that love small needle projects.


Heritage Prints-Cascade
Mini Metamorph - Biscotte
Opal Sock Yarn -Ashford
Perennial-Kelbourne Woolens

With a good mix of luxury and practicality, Perennial is a highly functional and versatile yarn that can serve a variety of needs for both knitters and crocheters alike. Our signature color palette of neutrals, blues, and a few pops of color really shines


Baby Smiles- Regia

The perfect yarn for babies and children. A new mercerizing procedure gives this yarn a particularly wonderful shine and softness, so it is a pleasure to make up and a delight to wear. REGIA is known as our classic sock yarn, but the range of solid colors


Cotton-Regia

Sweet fruits for your feet - From orange to watermelon and dragon fruit, you'll definitely find something that matches your taste! REGIA Tutti Frutti Color not only looks tasty, it is also breathable and extra soft because of its high cotton content. A al


Design Line 4Ply - Regia

This delightfully colorful yarn will keep you entertained as you knit by creating a Fair Isle effect all on its own. Perfect for socks, this yarn is a hard-wearing and machine-washable blend of wool and polyamide. Fiber Content: 75% Wool/ 25% Polyami


Merino Sock - Urth

Merino Sock - Urth


Pairfect Regia

SMC Regia Pairfect Kids Color Design Line by Arne & Carlos 4-PLY - A beautiful sock yarn from the Design Line by Arne & Carlos for knitting cheerful children socks from size 22 to 35. SMC Regia Pairfect Kids Color creates a gorgeous jacquard pattern inspi


Party of Five - Sweet Georgia

Party of Five - Sweet Georgia


Reinforcing Wool - Regia

REGIA 2-ply is perfect to darn and reinforce socks which are prone to heavy wear. Hold it together with your choice of REGIA sock yarn as you knit the heels and toes to reinforce these hard-wearing areas. Or, if disaster strikes, use it to darn any holes


Stripey Fine - Spud & Chloe

Everything you love about Fine, with the fun of Stripey color.


Tough Love Sock - Sweet Georgia

A perfect blend of warmth and strength to make a hardwearing sock yarn that can stand up to your affection and abuse.