a-MAIZING Sock (kit) UP North Yarns
Alegria - Manos del Uruguay

Sock yarn from Manos! Alegria is an easy-care blend of ultra-soft superwash merino with durable polyamide. Its "hand" is remarkably soft and resilient, making for lovely baby projects as well as socks.


Amble 25 g mini - The Fibre Co

Amble is a fingering-weight yarn made from a blend of eco-friendly washable wool and alpaca for comfort as well as recycled nylon for strength.


Amble- The Fibre Co

Amble is a fingering weight yarn made from a blend of eco-friendly washable wool and alpaca for comfort as well as recycled nylon for strength. Although designed for sock knitting, this soft and durable yarn is also great for accessories.


Biscotte Sock Yarn

It's a real pleasure to knit socks with this hand-dyed yarn. Bis-Sock yarn is so soft that you can use it to knit everything! Perfect hand-dyed yarn for every yarn addict! Available in semi-solid, speckled and self-striping sock yarn.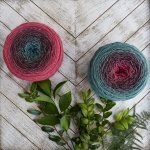 Blossoms

Center-pull gradient sock yarn: 4 oz., 425 yards; 80% superwash merino/20% nylon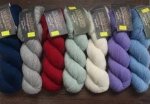 Cascade 220 Fingering

Extra yardage into this one, so you get 273 yards of 100% pure wool. Start thinking multi-colored mittens, glorious gloves and psychedelic shawls, as this wonderfully versatile and brilliant bright wool works up a treat.


Happy Feet Sock Kit -Baah
Heritage Prints - Cascade Yarn
Mini Metamorph - Biscotte

Socks, shawls, mittens to baby knitwear, this nice yarn, as pleasant to touch as for the eyes, will make you want to share your knitting projects with your loved one.


Occulus Sock-Supernova Dyeworks

Named after celestial bodies, these luxury yarns and fibers will bring some color and some sparkle to your stash. Michigan dyed yarns near Lansing. Oculus Sock is a very soft 2ply fingering weight yarn.


Opal Sock Yarn - Ashford

Opal Sock Yarns are known for their legendary quality and durability. They are self-striping and make for addictive knitting and eye-catching socks.



Out of Stock
Perennial - Kelbourne Woolens

Perennial is a highly functional, versatile yarn that serves a variety of needs for knitters/crocheters. Color palette of neutrals, blues, & a few pops of color really shines in this easy care yarn perfect for shawls, garments, socks, and baby/kid knits.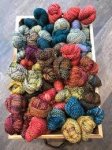 Practically Perfect Sock - Emma's Yarn

You guessed it, this 2 ply yarn makes a practically perfect pair of socks! This yarn is machine washable and has the perfect amount of stretch for a crazy comfortable pair of socks. Each 100g skein has 400 yards of gorgeous color.


Practically Perfect Theme Pack - Emma's Yarn

Ten Practically perfect smalls designed to be used together for a melting effect.


UP North Yarns -Sock
Cotton Color - Regia

Sweet fruits for your feet - from lemon to watermelon and dragon fruit, you'll definitely find something that matches your taste! REGIA Tutti Frutti Color not only looks tasty, it is also breathable and extra soft because of its high cotton content.



Out of Stock
Merino Sock - Urth

Merino Sock is artisian hand dyed in vibrant colors and soft to touch.


Party of Five - Sweet Georgia

Love gradients? Then you'll adore these sets. Richly dyed in stunning color, perfect for making a spectacularly colorful shawl. cowl, socks or fair isle hat.


Reinforcing Wool - Regia

REGIA 2-ply is perfect to darn and reinforce socks which are prone to heavy wear. Hold it together with your choice of sock yarn as you knit the heels and toes to reinforce these hard-wearing areas. Or, if disaster strikes, use it to darn any holes.