Alma - Manos del Uruguay

This versatile fingering-weight single-ply yarn is a soft and supple choice for shawls, sweaters, and accessories. It's got a great balance between lightness, body, and drape, and it also hits the sweet spot for lace work.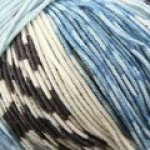 Ambiente - Schoppel

Ambiente is a super soft sport weight yarn that will make wonderful socks, accessories, and even baby projects. The colors in the ball coordinate beautifully and the print adds a touch of interest.


Aspen - Baah

Baah Aspen is a soft, beautiful, sport weight artisan yarn, hand-painted with care in southern California. Rich colors and bold combinations create a line of yarn you will keep coming back to.


Calista - Classic Elite

Classic mercerized cotton in a chain construction for elegant knit and crochet projects.


Cirro- The Fibre Co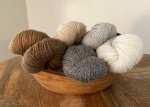 Eco Baby Alpaca - Baah

Sport Weight, 3 ply, 100% Baby Alpaca – Natural Fiber Color


Appalachian Baby Design Organic Cotton

Appalachian Baby Design Organic Cotton is a sport weight US organic cotton with a balanced twist for knitting, crocheting and weaving. Low impact, environmentally conscious dyes are used to create a yarn that is baby soft and earth friendly.


Arroyo - Malabrigo

A soft and sturdy plied sport-weight, Arroyo has quickly become a favorite among knitters! It's perfect for those everyday lightweight (but warm) garments, and the superwash wool means it's easy to take care of.


Baby Alpaca - Blue Sky Fibers

A classic two-ply twist and springy softness with an excellent stitch definition. Create stunning sweaters and accessories with this incredible yarn. Your finished project will drape beautifully and keep you toasty without being heavy.


Damsel - Dragonfly Fibers

This superwash merino has a remarkable loft for a sport weight yarn. It is incredibly soft to the touch and an all-around great weight for most projects perfect for sweaters, cowls, swingy skirts, childrens clothes and more.



Out of Stock
Firefly - Classic Elite

Firefly - Classic Elite


Mad Hatter - Wonderland

With its excellent stitch definition, Mad Hatter is a superb choice for cabled and textured projects from sweaters to accessories. While this hand dyed yarn can be machine washed, Wonderland Yarns recommends hand washing to preserve color.


Nature Spun Sport - Brown Sheep

The 3-ply construction of Nature Spun gives it spring, smoothness and strength, making it a perfect choice for knitting or crocheting garments and accessories. Nature Spun is an excellent choice for weaving as well.


Organic Cotton Skinny - Blue Sky Fibers

A round twist with multiple plies creates a smooth, sleek yarn with a "worn in" feel that is ideal for both knit and crochet. Knits into cool, comfortable tees, tanks, & accessories.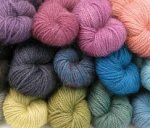 Road To China Light - The Fibre Co.

Road to China creates a knit fabric with a soft halo but enough definition to explore subtle textures & shifting patterns. Color palette is inspired by nature's jewels. Most shades are hand-dyed, so alternating hanks gives an overall blended appearance.


Serena - Manos del Uruguay

Serena has the best of both words: elasticity of animal fibers make it super nice to knit & the fresh touch of cotton, plus the extraordinary softness of both fibers. Fantastic drape which makes it perfect for scarves, wraps, cardigans & summer tops.


Unisono

Unisono