Crazy Sexy Wool - Wool and the Gang

This super bulky yarn is 100% natural, 100% renewable and totally biodegradable. Your knits will be cozy but breathable so its a winner in every season. Soft, sexy, knits up in a flash. Colors are out of this world!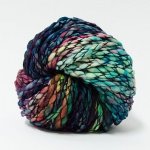 Caracol - Malabrigo

A bulky thick-and-thin yarn made of delightfully soft superwash merino wool, crisscrossed with a binder thread (either black or white.) Knits up into a cozy, fluffy fabric with a ton of texture & visual interest. Simple stitch patterns really let it sing!