Mammoth-Baah Yarn

Baah Yarn Mammoth is a Super Duper Bulky yarn, more so than Sequoia.


Woolstok North

Squishy, sturdy, and lofty, this single-ply, super bulky weight yarn is soft and light. Made from 100% Fine Highland Wool, Woolstok North's palette consists of twelve rich colors that play wonderfully together.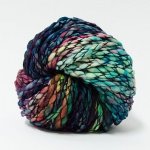 Caracol - Malabrigo

A bulky thick-and-thin yarn made of delightfully soft superwash merino wool, crisscrossed with a binder thread (either black or white.) Knits up into a cozy, fluffy fabric with a ton of texture & visual interest. Simple stitch patterns really let it sing!