Hella Hank - Emma's Yarn

A really big and super soft hank of fingering weight yarn, perfect for a shirt, wrap, or anything requiring a lot of yardage. AND, less ends to weave in! One hell of a hank with a super soft feel (thank you, cashmere) perfect for garments wraps etc.


Heritage Prints - Cascade Yarn
Kensington Hat Kit - Blue Sky Fibers

This winter-worthy hat with earflaps is made from soft and warm Suri Merino. Tie it tight to keep out the chill or wear it open to show off the brushed Suri poms. Kit includes: 2 hanks of yarn, 3 mini-hanks, and knitting pattern instructions.


Kidsilk Haze - Rowan

Kidsilk Haze combines the soft halo of super kid mohair with the vibrant shine of silk in an incredible yarn that is loved by knitters. Can be used with a variety of needle sizes to create different effects & styles, & is a favorite of lace fans.


KooZoo

A 100% Extrafine Merino yarn that's the epitome quality and comfort, this ultra soft yarn is prized for being very soft and comfortable against the skin. With an unrivalled fineness and softness Koozoo is your go-to yarn for any winter project!



Out of Stock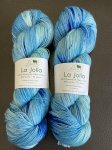 La Jolla - Baah

Baah's most popular and sought-after product. Hand painted in small batches in southern California using only high quality yarn and professional grade dyes.


Colors:

Price

$32.00

Quantity:

This item is not available for purchase online. Please call 231-271-YARN (9276) to order.



La Jolla Assigned Pooling-Baah Yarns
Out of Stock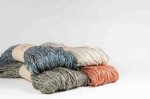 Linen- Dan Doh Designs

100% Pure Linen yarn from Japan. Clean, crisp linen fiber is spun into a unique chain ply structure, that knits up into light and airy fabric with dramatic drape. Nice soft handle.


Lore - The Fibre Co.

Lore is 100% lambswool from the Romney sheep, locally known as Kent lamb. It is an honest woollen-spun DK weight yarn that blooms beautifully after washing, making it a perfect yarn for colourwork.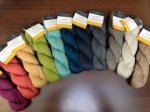 Luma - The Fibre Co.

A classic DK weight yarn, Luma's organic cotton and linen are mixed with silk and fine Merino wool to provide a built-in layer of warmth in winter yet lightness in cooler climates. Perfect for favorite wardrobe layering pieces.


Mammoth-Baah Yarn

Baah Yarn Mammoth is a Super Duper Bulky yarn, more so than Sequoia.


Marina - Manos del Uruguay

Marina's softness and drape feel wonderful next to the skin in scarves or shawls. It comes in tonal and space-dyed colorways and is made of superwash merino, which gives the colors beautiful depth. With 874 yards per skein, most projects only need one!


Marla
Marvelous Mohair - Emma's Yarn

Soft, silky and definitely luxurious. Add a subtle halo to any project. Use tone-on-tone colors to add depth an dimension to a garment or pair contrasting colors. Looks great held with another strand or used on its own.


Maxima - Manos del Uruguay

Super-soft merino fiber and a light single-ply construction make Maxima a cuddly yarn. A marbleized, subtly striated effect forms a rich palette of glorious colors. With its popular worsted-weight gauge, you'll find plenty of uses for Maxima.


Meadow - The Fibre Co.

A heavy lace weight yarn made of luxury fibers with a rustic touch. The crisp hand and stitch definition of linen with the sheen of silk is perfectly complimented by the softness of baby llama and fine merino.


Mecha- Malabrigo

Our superwash merino takes color in the most vivid, way, and nowhere is that more apparent than in the multi-layered hues of Mecha! With a slight thick-and-thin texture, and a fantastic loft, it's the perfect size for quick but not-too-heavy projects.


Merino Sock - Urth

Merino Sock is artisian hand dyed in vibrant colors and soft to touch.


Metalico - Blue Sky Fibers

A lush single-ply blend of baby alpaca & silk presented in shiny braids of naturally occurring alpaca colors & 6 dyed colors. This gorgeous yarn will make lovely lace projects with nice drape or a more substantial fabric for light warm sweaters and hats.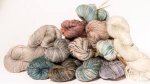 Milo - Manos del Uruguay

Milo blends merino wool with fine linen for a yarn that is simultaneously rustic and elegant. The linen retains its natural color through the dye process, giving a heathered effect. It also lightens the yarn and gives the knitted fabric excellent drape.



Out of Stock
Mini Metamorph - Biscotte

Socks, shawls, mittens to baby knitwear, this nice yarn, as pleasant to touch as for the eyes, will make you want to share your knitting projects with your loved one.


Mo'Slub
Occulus Sock-Supernova Dyeworks

Named after celestial bodies, these luxury yarns and fibers will bring some color and some sparkle to your stash. Michigan dyed yarns near Lansing. Oculus Sock is a very soft 2ply fingering weight yarn.


Organic Cotton - Blue Sky Fibers

Wrap yourself in a cloud of comfort with this worsted weight yarn that is environmentally friendly and naturally soft. Perfect for baby beanies or scarves for a sweetheart.


Organic Cotton Printed - Blue Sky Fibers

Beautiful tonal shades. This amazingly soft cotton is gentle on the hands next to skin soft. You'll love this yarn for sweaters and blankets to everything in between.


Organic Cotton Skinny - Blue Sky Fibers

A round twist with multiple plies creates a smooth, sleek yarn with a "worn in" feel that is ideal for both knit and crochet. Knits into cool, comfortable tees, tanks, & accessories.


Party of Five - Sweet Georgia

Love gradients? Then you'll adore these sets. Richly dyed in stunning color, perfect for making a spectacularly colorful shawl. cowl, socks or fair isle hat.


Perennial - Kelbourne Woolens

Perennial is a highly functional, versatile yarn that serves a variety of needs for knitters/crocheters. Color palette of neutrals, blues, & a few pops of color really shines in this easy care yarn perfect for shawls, garments, socks, and baby/kid knits.


Practically Perfect Halves -Emmas Yarn
Practically Perfect Smalls - Emma's Yarn

This is the perfect addition to any fingering weight project that is missing that pop of crazy beautiful color! We love it as a coordinating heel / toe on a practically perfect pair of socks.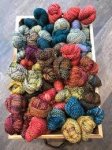 Practically Perfect Sock - Emma's Yarn

You guessed it, this 2 ply yarn makes a practically perfect pair of socks! This yarn is machine washable and has the perfect amount of stretch for a crazy comfortable pair of socks. Each 100g skein has 400 yards of gorgeous color.


Practically Perfect Theme Pack - Emma's Yarn

Ten Practically perfect smalls designed to be used together for a melting effect.


Rasta - Malabrigo

Whip out a super-cozy accessory in just hours with this super-sized slightly-fulled delightful yarn. Uruguayan merino is just as soft as ever. Knit it up on a 13-15 needle & everyone will know just how fabulously talented a knitter or crocheter you are!


Rios - Malabrigo

Soft, strong, and washable 4-ply yarn. The plies help resist pilling and washability makes it fantastic for frequently-worn garments, housewares, and children/baby clothes. Super soft and great for next to skin wear.


Rios Solidos
Road to China Lace - The Fibre Co (Discontinued)

Road to China Lace is a 2-ply strong, soft, shiny and drapey laceweight yarn., with a lot of body, perfect for luxurious, soft and warm accessories.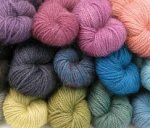 Road To China Light - The Fibre Co.

Road to China creates a knit fabric with a soft halo but enough definition to explore subtle textures & shifting patterns. Color palette is inspired by nature's jewels. Most shades are hand-dyed, so alternating hanks gives an overall blended appearance.


Sami -Manos Del Uruguay
Sassy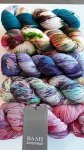 Savannah - Baah

Relax & knit the evening away with Savannah, a hand-dyed beauty from California. The blend of merino, super-soft cashmere & nylon delivers great stitch definition & comes in a lively palette.



Out of Stock