Road to China Lace - The Fibre Co (Discontinued)

Road to China Lace is a 2-ply strong, soft, shiny and drapey laceweight yarn., with a lot of body, perfect for luxurious, soft and warm accessories.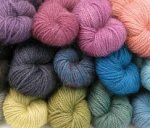 Road To China Light - The Fibre Co.

Road to China creates a knit fabric with a soft halo but enough definition to explore subtle textures & shifting patterns. Color palette is inspired by nature's jewels. Most shades are hand-dyed, so alternating hanks gives an overall blended appearance.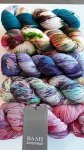 Savannah - Baah

Relax & knit the evening away with Savannah, a hand-dyed beauty from California. The blend of merino, super-soft cashmere & nylon delivers great stitch definition & comes in a lively palette.



Out of Stock
Scout - Kelbourne Woolens

A classic, strong, versatile, heathered 100% wool yarn. It is unfussy, beautiful, and high-quality, fantastic for textured stitches, cable work and colorwork.


Seduction DK- Why Knot Fibers
Seduction Fingering-Why Knot Fibers
Sequoia - Baah

This is a single ply super bulky yarn you didn't know you needed. Amazingly soft yarn is beautifully hand dyed in vibrant colors that will have your accessories popping with style.


Serena - Manos del Uruguay

Serena has the best of both words: elasticity of animal fibers make it super nice to knit & the fresh touch of cotton, plus the extraordinary softness of both fibers. Fantastic drape which makes it perfect for scarves, wraps, cardigans & summer tops.


Serene-Why Knot Fibers
Shasta - Baah

Baah Yarn Shasta is a worsted weight yarn made from 100% superwash merino wool. Yarn is hand painted in Las Vegas, Nevada.


Silk + Dan Doh Designs

A unique combination of Silk with little bits of color and silky cotton. "Silk +" is soft, light, and very comfortable to knit and wear. Silk + wears like a dream and has marvelous drape.


Slack-Why Knot Fibers

This yarn will quickly become a favorite! A lucsious blend of Merino, silk and Yak in rich colors with a generous sized skein. Garments will have just that extra something special!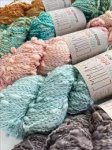 Slubby Slub-Emma's Yarn

Emma's Yarn newest fingering base yarn. Great for all your art yarn projects!


Softyak DK - Rowan

Softyak DK transcends the seasons thanks to its blend of cotton, yak & nylon. It has a stunningly soft handle & is static resistant & anti-microbial, which means the fabric stays fresher longer. Soft as cashmere with durability & washability.


Sole- Why Knot Fibers

Sole is a bouncy two-ply fingering weight with extra twist in the plies


Sonoma - Baah Yarn

One of the most versatile yarns, Sonoma can be used for cardigans, sweaters, scarves, shawls, and more. Each batch of Sonoma is hand-created individually, so no two skeins will appear exactly alike.


Sprout-Classic Elite
Out of Stock
Strata Cowl - Baah

This trendy cowl is squishy and comfy to wear. It looks harder than it is to make. It is knit with a one row repeat and is a great intro onto brioche knitting.



Out of Stock
Stripey Fine - Spud & Chloe (disc)

Spud & Chloe brand is known for making playful, yet sophisticated yarns that knit into adorable childrens garments & accessories. Stripey Fine is a soft blend of superwash wool & silk that comes in a palette of happy variegated colorways.


Summerlite DK - Rowan

The finest cotton results in a beautifully soft, matte yarn, which boasts a wonderful, summery tonal color palette. This yarn is a perfect choice for spring and summer designs such as a pretty shrug or evening time cardigan.


Super Silky - Emma's Yarn

This wool/silk yarn has a gorgeous drape and elegant sheen that looks and feels so soft! You will want an extra skein just to pet and cuddle! One 2-ply skein makes it the perfect yarn for a fine gauge wrap, shawl or sweater. Each skein hand-dyed by Emma.


Suri Merino - Blue Sky Fibers

A single-ply worsted weight yarn. Soft, smooth and warm, with a fluid drape and light halo. Incredibly versatile for hats, wraps and sweaters.


Susurro - Malabrigo

A blend of silk, linen, & Merino wool is soft and light, making it perfect for summer. The silk gives this a subtle sheen, while linen provides textural interest. Lovely for knitting light weight garments, scarves/wraps, ponchos, & tees.


Sweater - Blue Sky

Sweater is a worsted weight that is perfect for everyone! Ideal for your next wearable, washable sweater. Spud & Chloe lets you create dreamy pieces from soft baby socks to chunky sweaters, chic fashions and extra special gifts


Synchronicity Shawl Kit

Synchronicity is a top down, elongated triangular shawl knit using the mosaic knitting technique. The distinctive patterning is simple to create, using just one color per row.


Techno - Blue Sky Fibers

Great for fast knitting without splitting. Lightweight, it blossoms when it's blocked. Perfect choice for sweaters & accessories that knit up quickly. The yarn is soft enough to be worn next to the skin. Let your creativity bloom.


Tough Love Sock - Sweet Georgia

A perfect 3-ply blend of warmth and strength to make a hardwearing sock yarn that can stand up to your affection and abuse.


Tundra - The Fibre Co.

Tundra is a 2 ply bulky yarn created from baby alpaca, merino & silk. A pleasing, rounded appearance results in a plump hank with loft & a great hand. Accessories & garments knitted with Tundra enjoy a weightless warmth, sheen, drape and a slight halo.


Uneek Fingering - Urth

Short waves of self-striping magic start unraveling as soon as you cast on. Vibrant and bold colorways, dyed by hand. Urth Yarns plants a tree in Africa for each skein purchased.


Uneek Monokrom Cotton- Urth

Monokrom Collection is perfect for letting single colors stand out or to pair with our self-striping Uneek Collection.


Uneek Worsted - Urth

Short waves of self-striping magic starts unraveling as soon as you cast on. Vibrant and bold colorways, dyed by hand. Urth Yarns plants a tree in Africa for each skein purchased.


UP North Superwash Merino DK
UP North Yarns -Sock
UP North Yarns Worsted/Aran
UP North Yarns- Fingering
UP North Yarns-Superkid Mohair/Silk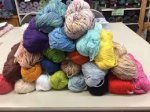 Verano - Malabrigo

Verano's softness, strength, & shine are perfect for both warmer weather & those in between times when you just need a little something. Pima cotton is renowned for its softness & strength & has a subtle sheen that adds an additional interest to projects.


Washable Worsted- Emma's Yarn

This high quality worsted wool base is so soft, not scratchy and is perfect for your favorite garments. You can throw it in the wash and re-wear all sweater season (and the rest to come).


Winter at Esch Beach - FINGERING -Up North Yarns
Wool Classica

Wool Clasica is a sturdy yarn hand-spun from the fleece of Corriedale sheep that pasture in Uruguay. This single-ply, heritage yarn gives knit garments, accessories & home decor a casual, rustic luxe appearance.